"Eine mutige, spektakulär unterhaltsame – und unerwartet berührende – Nacherzählung von Flynts Leben, die uns auffordert, den Herausgeber des Hustler Magazins als einen wertvollen Vorreiter für die Freiheiten des ersten Grundrechts unserer Verfassung zu betrachten."
"Larry Flynt ist ein Teufel mit Engelsflügeln. Die eine Hälfte besteht aus Anstößigkeit und Schmutz, doch die andere Hälfte ist äußerst edel und bewundernswert", sagt Filmemacher Milos Forman über den berühmten Pornografiemagnaten. Der biografische Film schildert 25 Jahre vom Aufstieg eines Mannes, der als Betreiber eines Stripteaseladens anfing, um schließlich Herausgeber des kontroversen und skandalösen pornografischen Magazins Hustler zu werden.
Es ist die Geschichte eines wirklichen Mannes, der die Grenzen des öffentlichen Geschmacks verschob und dessen Kämpfe vor Gericht mit den Verteidigern der Moralität eine wütende Debatte über das erste Grundrecht der amerikanischen Verfassung begannen. 
Über den Film
"Die einzige Straftat, die ich begangen habe, ist mein schlechter Geschmack", sagt Larry Flynt, als er sich vor dem höchsten amerikanischen Gericht in einer Beleidigungsklage gegen den Pfarrer Jerry Falwel verteidigt, dessen Rede er auf obszöne Art und Weise parodiert hatte. Milos Forman präsentiert Larry als vulgären Faxenmacher aus Kentucky, der mit nackten Frauen und Sex ein Vermögen machte, doch er zeigt auch mit Sympathie einen sturen Mann, der gegen eine puritanische Gesellschaft kämpft, die nicht in der Lage ist, Flynt zu vergeben, wie er die Heuchlerei einer ganzen Nation aufzeigt
Gleichzeitig erzählt der Film Flynts Lebensgeschichte und persönliche Tragödien, die ihn beeinflussten. Er überlebte ein Attentat, bei dem er querschnittsgelähmt wurde, so dass er für den Rest seines Lebens einen Rollstuhl benutzen musste. Seine Frau Althea, die er treu liebte, starb an einer Überdosis Drogen und den Folgen ihrer Aidserkrankung. Flynt blieb alleine zurück mit seinen Depressionen und Dämonen.
Der Film schwingt zwischen zwei klassischen amerikanischen Genres hin und her: der Biografie und dem Gerichtsdrama. Die Szenen, in denen Larry zusammen mit seinem Anwalt Alan L. Isaacman gegen die selbsternannten Sittenprediger kämpft, gehören zu den wichtigsten des Films.
Die zentralen Situationen für Milos Forman sind scheinbar die, in denen das oberste Gericht entscheiden muss, dass Meinungsfreiheit auch bedeutet, den nackten Hintern einer Frau oder Geschlechtsverkehr im Weihnachtsmannkostüm zu zeigen. "Man muss ihm nicht zustimmen, aber will man wirklich seine unbegrenzte Meinungsfreiheit deswegen aufgeben?" – diese Frage stellt der Film.
Wissenswertes
Milos Forman lehnte zunächst ab, das Drehbuch überhaupt zu lesen, da er dachte, es handle sich um Pornografie. Doch nachdem ihm sein Manager erklärte, dass Oliver Stone hinter dem Projekt stand, entschied er sich schließlich, es doch zu lesen.
Tom Hanks und Bill Murray standen beide für die Rolle von Larry Flynt zur Auswahl. Die Produzenten waren fest entschlossen, Bill Murray als Larry Flynt zu besetzen, doch laut Milos Forman rief Murray nie zurück.
Der wirkliche Larry Flynt wählte auf die Frage, wer ihn im Film spielen sollte, Michael Douglas.
Milos Forman behauptet, dass Courtney Love bei ihrem ersten Treffen unter Drogen stand. Gerade als er sie wieder wegschicken wollte, erkannte er, dass Love für die Rolle der Althea perfekt war. Forman bot ihr die Rolle unter einer Bedingung an: dass Love sich  von Drogen fernhalten und während des Drehs reguläre Drogentests machen würde. Sie erfüllte die Bedingungen. Bis heute rechnet sie Forman an, dass sie dank ihm von den Drogen losgekommen ist, was zu der Wiedererweckung ihrer Karriere führte.
Columbia Pictures sollte als Versicherung für Courtney Love so viel Geld zahlen, dass die Gesellschaft ablehnte, dies zu tun. Daher zahlten Schauspieler Woody Harrelson, die Produzenten Oliver Stone und Michael Hausman, Regisseur Milos Forman und sogar Courtney selbst die Versicherung von ihrem eigenen Geld.  
Courtney Love spielt im Film die Stripperin Althea Flynt. Bevor Courtney berühmt wurde, hatte sie selbst u.a. als Stripperin gearbeitet.
Patricia Arquette, Mira Sorvino und Ashley Judd waren für die Rolle von Althea Flynt im Gespräch.
Larry Flynts Bruder Jimmy wird von Woody Harrelsons wirklichem Bruder Brett Harrelson gespielt.
Larry Flynt selbst spielt die Rolle des Richters Judge Morissey beim Gericht von Cincinatti.
Das Abschlussplädoyer von Larrys Anwalt, dessen Rolle von Edward Norton gespielt wurde, ist eine Kopie des wirklichen Abschlussplädoyers von Flynts Anwalt Alan. L. Isaacman.
 Larry Flynts Villa, wo er zu Beginn der achtziger Jahre lebte, war einer der Drehorte für den Film.
Die Rolle von Doktor Bob wurde von Flynts Arzt Dr. med. Blaine Nashold gespielt.
Larry Flynts wirklicher Rollstuhl aus Gold wird von Woody Harrelson im Film benutzt.
Edward Norton hatte seine erfolgreiche Karriere bereits begonnen, entschloss sich aber dennoch, die Nebenrolle von Larrys Anwalt zu spielen. Der Grund war, dass er unbedingt mit Milos Forman zusammenarbeiten wollte.
Donna Hanover Giuliani spielte die Rolle von Präsident Jimmy Carters Schwester. Zu diesem Zeitpunkt war sie mit Rudi Giuliani, dem Bürgermeister von New York City, verheiratet.
Das Haus, das im Film als Flynts Residenz in Ohio dient, war bereits vorher das vorübergehende Zuhause für Tom Cruise und seine Familie, während er den Film Die Firma drehte. Eine Tube mit seiner Zahnpaste blieb noch bei einem Fenster zurück.
Die Veröffentlichung des Films zog den Zorn der Antiporno-Feministin Gloria Steinmen auf sich. Ihr Artikel erschien zuerst in der New York Times, in dem sie Forman und Oliver Stone der Erniedrigung von Frauen bezichtigte. Dem Artikel folgte eine Kampagne in den ganzen Vereinigten Staaten, in denen sie Formans Einsatz für Flynt scharf attackierte. Diese negative Kampagne schadete dem Film spürbar und ist womöglich der Grund, warum der Film nicht die Möglichkeit bekam, einen Oscar zu erhalten.
Milos Forman über den Film
"Ich sage nicht, man soll das, was Larry Flynt macht, mögen. Ich mag es selber nicht, aber ich bewundere die Tatsache, dass ich in einem Land lebe, in dem ich meine eigenen Entscheidungen treffen kann. In einem Land, in dem ich eine Ausgabe von Hustler nehmen kann und sie lesen oder auch wegschmeißen kann, was man nach meiner Meinung damit tun sollte."
"Flynt hatte über das ganze Drehbuch seine Kommentare über die Fakten geschrieben, was für mich von unschätzbarem Wert war. Er machte seine Bemerkungen und ich machte fieberhaft Notizen am Rand der Drehbuchseiten, bis Flynt zur letzten Seite kam und plötzlich still wurde. Ich nahm meinen Mut zusammen und fragte: 'Larry, macht es dir nichts aus, dass du in einigen der Szenen nicht wirklich als Held rüberkommst?' ,Natürlich tut es das! Ja, es macht mir etwas aus, aber was kann ich machen, wenn das eben die Wahrheit ist?", murrte Flynt.
"Vor der Veröffentlichung war ich wirklich nervös, deswegen rauchte ich viel. Das ganze Kino war voller Rauch. Larry saß regungslos hinter mir, halb versteckt von meinem Zigarrenqualm, und starrte auf die Leinwand. Ich brauchte etwas Zeit, um zu merken, dass er Tränen in den Augen hatte. Das einzige, was Flynt gesehen hatte, war der glitzernde Traum seiner Althea – der King of Porn war sentimentaler als jeder pubertierender Dichter."
Soundtrack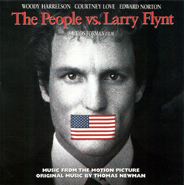 VA - People vs. Larry Flynt
Musik:
Thomas Newman
Einspielung:
Village Recorder Todd A/O
© 1996 Angel records
© 1996 Columbia Pictures Industries, Inc.
© 1977 Rhino Records, Inc.
© 1975 Warner Bros., Inc. Motion Pictures Artwork And Photography
CD
Eggsplat
Thomas Newman
00:12

Kentucky, 1952
Thomas Newman
02:46

Hello Walls
Faron Young
02:25

Hang On Sloopy
The McCoys
03:54

Tick Tick Tick
Thomas Newman
01:50

Jail Bait
Thomas Newman
01:08

Lewd And Shameful Manner
Thomas Newman
00:54

Cold Turkey Pervert
Thomas Newman
01:13

Battle Hymn Of The Republic
Ruby Wilson / Kurt Clayton
01:08

My Soul Doth Magnify The Lord
The Collins Chapel Youth Choir
01:47

Shooting (Georgia, 1978)
Thomas Newman
02:42

Porn Again
Thomas Newman
01:16

Polonaise
Antonín Dvorak: Rusalka
Tschechische Philharmonie unter der Leitung von Libor Pešek
00:58

Triple Dose
Thomas Newman
00:56

Surgery (North Carolina, 1983)
Thomas Newman
00:31

Fanfare And March
Bedrich Smetana: Dalibor
Tschechische Philharmonie unter der Leitung von Libor Pešek
02:18

The Half With The Brain
Thomas Newman
01:57

Psycho Ward
Thomas Newman
00:34

Althea
Thomas Newman
01:17

I'm Your Boogie Man
Harry W. Casey & Richard Finch: K.C. & The Sunshine Band
04:04

Twenty-One
Thomas Newman
00:57

Scumbag Like Me
Thomas Newman
01:51

Deep Depravity
Thomas Newman
00:40

Falwell Verdict (Virginia, 1984)
Thomas Newman
00:59

Happy You And Merry Me
Mae Questil
00:41

Los Angeles, 1987
Thomas Newman
01:20

Stabat Mater Dolorosa
Antonín Dvorák
Tschechische Philharmonie unter der Leitung von Libor Pešek
Kühn Kinderchor unter der Leitung von Pavel Kühn
01:10

Rosefall
Thomas Newman
00:40

Stabat Mater Dolorosa
Antonín Dvořák
Tschechische Philharmonie unter der Leitung von Libor Pešek
Kühn Kinderchor unter der Leitung von Pavel Kühn
07:34

Dream Weaver
Gary Wright
04:19
Drehorte
USA
Memphis, Tennessee

Riverside (speziell für den Dreh angefertigte Szenerie)

Flynts Heimat in Kentucky. Larrys Vater brennt illegalen Schnaps und er und sein Bruder transportieren die Fässer.

Peabody Hotel

Ein Treffen der Bürgervereinigung  "Für anständige Literatur", angeführt von Charles Keating. Kopien des Magazins Hustler werden herumgereicht. Einige der Männer nehmen sie vergnügt an.

Memphis State University

Baptistenkirche und der Sitz von Pfarrer Falwell. Der Pfarrer wird im Hustler obszönen sexuellen Verhaltens beschuldigt und ein Gerichtsverfahren ist im Anmarsch.

Shelby County Arena

Kongresszentrum in Cincinnati. Larry Flynt ist nach seiner Freilassung bei einem Treffen der Vereinigung für Pressefreiheit anwesend.

Verlassenes Lagerhaus beim Bahnhof

Flynts Schlafzimmer im zweiten Stock seiner Villa in Bel Air.
Original-Gebäude von Flynts Verlag des Hustlermagazins.
Innenräume des Gerichtsgebäudes, wo Flynts erster Gerichtsprozess stattfindet.

Straße vor dem Tate County Gerichtsgebäude, Senatobia

Flynt wird angeschossen und sinkt zu Boden. Die Verletzung zwingt ihn in einen Rollstuhl.

Nebenfluss des Mississippi

Larry Flynt wird im Fluss getauft. Das Ritual wird von Mrs. Carter beobachtet.

Beverly Hills, Kalifornien

Flynt Publications Gebäude, 8484 Wilshire Boulevard

Larry Flints Verlagshaus. Jimmys und Larrys Büros, Flure, etc. Innenaufnahmen und gesamtes Panorama.

Flynts Villa in Bel Air

Razzia der Polizei. Flynt wird verhaftet.
Larry Flynt und Althea in ihrem Haus während der Achtziger.
In der Schlusssequenz des Films sieht sich Flynt ein Video von Althea an. Sein Anwalt benachrichtigt ihn, dass sie vor Gericht gewonnen haben.
Das Haus ist Teil einer Montage, als Flynt nach Kalifornien zieht.

Hollywood Boulevard

Ein Transsexueller geht mit seinem Hund spazieren. Teil einer Montage, als Larry nach Kalifornien zieht.

Washington D. C.

Supreme Court Building

Larry kommt zum letzten Showdown. Interviews mit Journalisten. Eine Menschenmenge versammelt sich vor dem Gebäude.
Veranstaltung
Ort
Auszeichnung
Kategorie

G

/

N

1996
69. Oscar® - Verleihung
Los Angeles
USA
Oscar®
Bester Hauptdarsteller
Woody Harrelson
("Larry Flynt")
Beste Regie
Milos Forman
22. Verleihung des Preises des Kritikerverbands von Los Angeles
Los Angeles
USA
LAFCA (Preis des Kritikerverbands von Los Angeles)
Bester Nebendarsteller
Edward Norton
("Isaacman")
Beste Nebendarstellerin
Courtney Love
("Althea Leasure")
62. Preisverleihung des Filmkritikerzirkels von New York
New York
USA
NYFCCA (Preis des Filmkritikerzirkels von NY)
Beste Nebendarstellerin
Courtney Love
("Althea Leasure")
Verleihung des Preises der Filmkritikvereinigung von Boston
Boston
USA
BSFC Award (Preis der Filmkritikvereinigung von Boston)
Bester Nebendarsteller
Edward Norton
("Isaacman")
Beste Nebendarstellerin
Courtney Love
("Althea Leasure")
Preisverleihung der Texaninischen Filmkritikgesellschaft
Texas
USA
STFC Award (Preis der Texanischen Filmkritikgesellschaft)
Bester Nebendarsteller
Edward Norton
("Isaacman")
National Board of Review
New York
USA
Preis der Meinungsfreiheit
Milos Forman, Oliver Stone
Preis der Fernseh- und Radiokritikervereinigung
Los Angeles
USA
Kritikerpreis
Bester Film
Preisverleihung der Filmkritikervereinigung von Chicago
Chicago
USA
CFCA Award (Filmkritikervereinigung von Chicago)
Vielversprechendster Schauspieler
Edward Norton
("Isaacman")
Vielversprechendste Schauspielerin
Courtney Love
("Althea Leasure")
Preisverleihung des Filmkritikerzirkels von Florida
Florida
USA
FFCC Award (Filmkritikerzirkel von Florida)
Bester Nebendarsteller
Edward Norton
("Isaacman")
Beste Nebendarstellerin
Courtney Love
("Althea Leasure")
Preisverleihung der Southeastern Filmkritikergemeinschaft
USA
SEFCA Award (Southeastern Filmkritikergemeinschaft)
Bester Nebendarsteller
Edward Norton
("Isaacman")
Gesellschaft für politischen Film
Los Angeles
USA
PFS Award (Gesellschaft für politischen Film)
Exposé
Menschenrechte
Verleihung des Satellitenpreises der Internationalen Presseakademie
Los Angeles
USA
Goldener Satellit
Bestes Originaldrehbuch
Scott Alexandre, Larry Karaszewski
Beste Nebendarstellerin in einem Spielfilm - Drama
Courtney Love
("Althea Leasure")
1997
Verleihung des Preises des Filmkritikkreises von Kansas City
Kansas City
USA
Preis des Kritikerkreises von Kansas City
Bester Film
55. Golden Globe Verleihung
Los Angeles
USA
Golden Globe
Beste Regie
Milos Forman
Bestes Drehbuch
Scott Alexandre, Larry Karaszewski
Bester Film (Drama)
Michael Hausman
Bester Hauptdarsteller (Drama)
Woody Harrelson ("Larry Flynt")
Best Performance by an Actress in a Motion Picture (Drama)
Courtney Love
("Althea Leasure")
Internationales Filmfestival Berlin
Berlin
Deutschland
Goldener Bär
Milos Forman
Writers Guild of America Awards
Los Angeles
USA
Paul Selvin Honorary Award
Best Adapted Drama
Scott Alexandre, Larry Karaszewski
Preisverleihung der Schauspielergilde
Los Angeles
USA
Actor®
Herausragende darstellerische Leistung eines männlichen Schauspielers
Woody Harrelson
("Larry Flynt")
Casting Society of America, USA
Los Angeles
USA
Artios®
Bestes Casting für einen Spielfilm (Drama)
Francine Maisler
(location casting: Jo Doster)
MTV Movie Awards
Santa Monica
USA
MTV Movie Award
Bester Schauspielerdurchbruch
Courtney Love
("Althea Leasure")
Tschechische Löwen
Prag
Tschechische Republik
Tschechischer Löwe
Beim Publikum erfolgreichster Film
Milos Forman
Technische Informationen
35 mm
Seitenverhältnis : 2,35 :1
Tonverfahren : Dolby Digital, SDDS
Farbe (Technicolor)
Besetzung und Crew
Columbia Pictures presents
in Association with Phoenix Pictures an Ixtlan, production

Starring

Larry Flynt
Woody Harrelson
Althea Leasure
Courtney Love
Isaacman
Edward Norton
Charles Keating
James Cromwell
Arlo
Crispin Glover
Simon Leis
James Carville
Jimmy Flynt
Brett Harrelson
Ruth Carter Stapleton
Donna Hanover
Network Reporter
Norm MacDonald
Chester
Vincent Schiavelli
Miles
Miles Chapin
Jerry Falwell
Richard Paul
Judge Thomas Mantke (L. A. Court)
D'Army Bailey
Roy Grutman
Burt Neuborne
The Assassin
Jan Triska
Casting by
Francine Maisler
Music by
Thomas Newman
Costume Designers
Theodor Pistek, Arianne Phillips
Film Editor
Christopher Tellefsen
Production Designer
Patrizia von Brandenstein
Director of Photography
Philippe Rousselot
Written by
Scott Alexander, Larry Karaszewski
Produced by
Oliver Stone, Janet Yang, Michael Hausman
Directed by
Milos Forman
10 Year Old Larry
Cody Block
8 Year Old Jimmy
Ryan Post
Old Hillbilly
Robert Davis
Young Ma Flynt
Kacky Walton
Young Pa Flynt
John Ryan
1st Stripper
Kathleen Kane
Disc Jockey
Greg Roberson
Old Printer
Jim Peck
Trucker
Mike Pniewski
Staffer
Tim Parati
Staffer
Rick Rogers
Staffer
Dan Lenzini
Staffer
David Compton
Staffer
Gary Lowery
Stills Photographer
Stephen Dupree
Tovah
Rainbeau Mars
News Dealer
Tam Drummond
Ma Flynt
Nancy Lea Owen
Pa Flynt
John Fergus Ryan
Governor Rhodes
Oliver Reed
Jacuzzi Girl
Meresa T. Ferguson
Jacuzzi Girl
Andrena Fisher
Police Detective
Ken Kidd
Judge Morrissey (Cincinatti Court)
Larry Flynt
Jury Forewoman (Cincinatti Court)
Janie Paris
Court Clerk (Cincinatti Court)
Carol Russell-Woloshin
Rally Singer
Miss Ruby Wilson
Announcer at Rally
Eddie Davis
Ad Sales Guy
Blaine Pickett
Georgia Cops
Kerry White
Georgia Cops
Joey Hadley
Robert Stapleton
Chris Schadrack
Georgia Prosecutor
Mac Pirkle
Georgia Doctor
Mark W. Johnson
Flynt's Personal Bodyguard
Doug Bauer
Bodyguard
Roberto Roman Ramirez
Dr. Bob
Blaine Nashold
Cute Receptionist
Aurelia Thierree
Blow Dried Jerk
Scott Winters
Lawyer (L. A. Court)
Mike McLaren
Network Lawyer
Andrew Stahl
Delorean Attorney
Michael Detroit
Keating's Secretary
Jaime Jackson
Federal Marshall
David Dwyer
Deputy Marshall
Richard Birdsong
Deputy Marshall
James A. White
Butler
Gerry Robert Byrne
Bailiff (L. A. Court)
Benjamin Greene, Jr.
Mantke Clerk
Mary Neal Naylor
Springfield Prison Guard
Tiny M. Bates
Divinity Student
Evans Donnell
Divinity Student
Jay Adams
Dean Of Liberty College
Bennett Wood
Judge Kirk (Roanoke Court)
Janice Holder
Jury Foreman (Roanoke Court)
A. V. McDowell
Chief Justice Rehnouist
Jim Grimshaw
Justice Marshall
James Smith
Justice Scalia
Rand Hopkins
Justice Stevens
Charles M. Crump
Supreme Court Marhall
Pierre Secher
Svelte Reporter
Linn Sitler
Reporter
Mary M. Norman
Reporter
Jack Shea
Reporter
Lisa Lax
Georgia Reporter
Susan Howe
Georgia Reporter
Michael Davis
Georgia Reporter
Dennis Turner
Georgia Reporter
Patti Hatchett
Georgia Reporter
Ann Marie Hall
Georgia Reporter
Nate Bynum
Georgia Reporter
Paula Haddock
Georgia Reporter
Gary Kraen
Network Reporter
Norm MacDonald
L. A. Reporter
Jeff Johnston
Falwell Reporter
Joey Sulipeck
Falwell Reporter
Jim Palmer
D. C. Reporter
Gene Lyons
D. C. Reporter
Saida Pagan
D. C. Reporter
Jim Hild
D. C. Reporter
Michael Klastorin
TV Reporter At Supreme Court
Michelle Robinson
Associate Producers
Scott Ferguson
George Linardos
Unit Production Manager
Michael Hausman
1st Assistant Director
David McGiffert
2nd Assistant Director
Scott Harris
Production Supervisor
Gerry Robert Byrne
Art Directors
James Nezda, Shawn Hausman
Set Decorators
Maria A. Nay, Amy Wells
Assistant Art Directors
James Flood Truesdale, James Feng
Script Supervisor
Anne Gyory
A Camera Operator
Anastas N. Michos
B Camera Operator
Ted Morris
First Assistants Camera
Robin Melhuish, Brian Nordheim
Costume Supervisor
Nancy McArdle
Costumers
Lawrence Velasco, Stephanie Colin
Key Makeup
Ben Nye, Bron Roylance
Hairstylist
Melissa A. Yonkey
Chief Lighting Technician
Jack English
Best Boy
James Babineaux
Rigging Gaffer
Robert D. Carrier
Key Grip
J. Wayne Parker
Dolly Grip
Chris Rawlins, Jr.
Key Rigging Grips
Riko Schatke, Henry M. Massey
Stunt Coordinator
Tim Trella
Special Effects
Rodman Kiser
Production Coordinator
Chrissie Davis
Assistant Production Coordinators
Kimberly N. Fajen, Margo Hunt, Jennifer Silverman, Jennifer Jenkins
Production Accountant
Matilde P. Valera
Assistant to Mr. Harrelson
Danielle Tahos
Assistant to Mrs. Love
Raphael T. S. Murray
Assistant to Mr. Forman
Martina Zborilova
Assistant to Mr. Stone
Annie Mei-Ling Tien
Assistant to Ms. Yang
Janet Monagham
Location Manager
Betsy Bottando
Assistant Location Manager
Diana Strauss
Property Master
Bill Dambra
Assistant Property Master
David Chamerski
Buyer
Sarah Young
Construction Coordinator
Tyler Osman
Construction Shop Manager
Henning Molfenter
Construction Foreman
Troy Osman
Scenic Artist
John Snow
Camera Scenic Artist
Lee Ross
Lead Person
Leonard Spears
Key Set Dresser
David Weathers
On Set Dresser
Spencer Register
Transportation Captain
Jerry Jackson
Transportation Co-Captain
Rick Davis
Sound Mixer
Chris Newman
Boom Operator
Marc-Jon Sullivan
Cable Person
Gregg Harris
Additional Editor
Michael R. Berenbaum
First Assistant Editor
Joel Hirsch
Second Assistant Editor
Misako Shimizu
Apprentice Editors
Earl Dittebrandt, Arthur Schlenger
Supervising Sound Editor
Stan Bochner
Music Editor
Bill Bernstein
Sound Fx Editors
P. DeMetruis, Richard Quentin King
Dialogue Editors
Stuart Emanuel, Kevin Lee, Branca Mrkic
ADR Editor
Hal Levinsohn
Foley Editor
Ira Spiegel
Foley Artist
Brian Vancho
Assistant Sound Editors
Marlena Grzaslewicz, Michael W. Mitchell
Apprentice Sound Editor
Adam Lipsius
Assistant Music Editor
Jordan Corngold
Re-recording Mixer
Michael Barry
Music Recorded at
Village Recorder Todd A/O
Video Assist
Frankie Yario, Jr.
Second Second Assistant Director
Stephen Hagen
Production Assistants
John R. Saunders, Tobia Minckler, Doug Campbell, Darian Corley, John Brudenell, Barry Barclay, Heather Ross, Steven Samanen, Jana Triska, Karyn Usher
Draper
Shari Griffin
Publicist
Michael Klastorin
Stills Photographer
Sidney Baldwin
Casting Associates
Kathryn Eisenstein, Kathleen Driscoll-Mohler
Extras Casting
Willo Hausman, Kate Kennedy
Mid South Casting
Jo Doster, Kim Petrosky
Researchers
Ashley Cook, Barry Gildea
Magazine Photo Advisor
Ladi von Jansky
Mr. Harrelson's Dialect Coach
Nadia Venesse
Security for Mr. Harrelson
Steve Ranger
Catering
Unique Catering
Craft Service
Wende L. Martin
First Aid
Safety Emergency Services
Process Projection By
The Bran Ferren Group
Color Timer
David Pultz
Negative Cutter
J. G. Films
Opticals by
The Effects House
Color by
DuArt
Title Design and Digital Effects by
Balsmeyer & Everett

The Producers Acknowledge The Cooperation of

Consultant
Alan L. Isaacman (Isaacman, Kaufaman & Painter)
Soundtrack on Angel / Emi Records

Music

"Hello Walls"
Written by Willie Nelson
Performed by Faron Young
Courtesy of Capitol Nashville
under license from
Emi-Capitol Music Special Markets
"Country Girl"
Written by Roy Drusky
Performed by Faron Young
Courtesy of Capitol Nashville
under license from
Emi-Capitol Music Special Markets
"A Satidfied Mind"
Written by Red Hayes & Jack Rhodes
Performed by Porter Wagoner
Courtesy of The RCA Records Label
of BMG Entertainment
"Hang on Sloopy"
Written by Bert Russell & Wes Farrell
Performed by The McCoys
Courtesy of Columbia Records
by Arrangement with Sony Music Licensing
"Express Yourself"
Written by Charles Wright
Performed by Idris Muhammad
Courtesy of Fantasy
"Pick Up The Pieces"
Written by Roger Ball, Malcom Duncan, Alan Gorrie, Robbie McIntosh, Owen McIntyre & Hamish Stuart
Performed by Average White Band
Courtesy of Atlantic Recording eorp.
by Arrangement with
Warner Special Products & Average White Band
"I'm Your Boogie Man"
Written by Harry W. Casey & Richard Finch
Performed by KC & The Sunshine Band
Courtesy of Rhino records
by Arrangement with
Warner Special Products
"Dream Weaver"
Written and Performed by Gary Wright
Courtesy of Warner Bros. Records
by Arrangement with
Warner Special Products
"Tannhauser Overture"
Performed by New York Philharmonic
Conducted by Pierre Boulez
Courtesy of Sony Classical
by Arrangement with
Sony Music Licensing
"My Soul Doth Magnify The Lord"
Written by O'Landa Draper
Performed by The Collins Chapel Choir, Memphis, TN
Choir Director, Jon Reddick
Chopin "No. 47 in A Minor, Opus 68, No. 2"
Performed by Idil Biret
Courtesy of Naxos of America
by Arrangement with
Sourace/Q
"Fantasia on A.D.G."
Written by Jef Rottiers
Courtesy of Rene Gailly International
Productions Belgium
"Use Me"
Written by Jacquelyn Reddick & Jeanie McQuinn
Performed by The Collins Chapel Choir, Memphis, TN
Choir Director, Jon Reddick
"Happy You and Merry Me"
Written by Tot Seymour & Yee Lawnhurst
"Polonaise" form "Rusalka"
Written by Antonin Dvorak
Performed by The Czech Philharmonic Orchestra
Conducted by Libor Pesek
"Blessed Be The Name"
Arranged by Larry Mayfield
Courtesy of Zombia Music Services
"Fanfare and March" from "Dalibor"
Written by Bedrich Smetana
Performed by The Czech Philharmonic Orchestra
Conducted by Libor Pesek
Selections from "Stabat Mater"
Written by Antonin Dvorak
Performed by The Czech Philharmonic Orchestra
Conducted by Libor Pesek
and Kühn's Mixed Chorus
Chorus Master, Pavel Kühn

Special Thanks

The Supreme Court of The United States
Dr. W. W. Herenton, Mayor of Memphis
Jim Rout, Mayor of Shelby County
The Memphis & Shelby Co. Film, Tape and Music Commission
Tennessee Film, Entertainment & Music Commission
Shel Bachrach
Filmed in Panavision®
Prints by Technicolor®
Dolby®
SDDS - Sony Dynamic Digital Sound
© 1996 Columbia Pictures Industries
a Sony Pictures Entertainment company