"A brave, spectacularly entertaining - and unexpectedly stirring - account of Flynt's life that asks us to regard the publisher of Hustler magazine as an invaluable champion of our First Amendment freedoms."
"Larry Flynt is a devil with angel's wings. Half the man is just sleaze and smut, but the other half is very noble and admirable," says filmmaker Milos Forman. This biography about the famous pornography magnate spans 25 years, and follows the rise of the man who started as an operator in a striptease joint, and ended up as the publisher of the controversial pornographic magazine Hustler.
"The People vs. Larry Flynt" tells the true story of a man who challenged the borderline of public taste, and whose trial started a raging debate with defenders of morality about the First Amendment.
About the movie
"The only offence I committed was my bad taste," Larry Flynt states in his defense to the Unites States Supreme Court libel suit against the Reverend Jerry Falwell. Throughout the film, Milos Forman characterizes Larry as a vulgar prankster from Kentucky who made a fortune off the back of naked women and sex, and also as a stubborn man fighting against a puritanical society who is unable to forgive the hypocrisy of the whole nation.
The film depicts Flynt's life story, and the personal tragedies that influenced him. Flynt survived an assassination attempt that left him paralyzed from the waist down and wheelchair bound. His wife Althea died from a drug overdose and AIDS. As a result, Flynt was left alone with his depression and personal demons.
The film oscillates between two classical American film genres: biography and court drama. For Milos Forman, the pivitol scene of the film is when the Supreme Court decides whether freedom of speech includes the freedom to show a woman's naked butt or sexual intercourse in a Santa Claus costume. The movie poses the question: "You don't have to agree with him, but would you resign to the unlimited freedom of speech?"
Trivia
At first Milos Forman refused to read the screenplay because he thought it was going to be pornographic. He only decided to read it after his manager informed him that Oliver Stone was behind the project.
Tom Hanks and Bill Murray were initially considered for the role of Larry Flynt. The producers were set on casting Bill Murray as Larry Flynt, but according to Milos Forman, Murray never returned his phone calls.
When the real Larry Flynt was asked who he would like to play him in the movie he picked Michael Douglas.
Milos Forman claims that Courtney Love showed up to their first meeting strung out on drugs. But just when he was about to dismiss her, he realized that Love was perfect for the role of Althea. Forman offered Love the role on the condition that she would stay clean and undergo regular drug testing throughout filming to which she complied. To this day, Love credits Forman with helping her get off drugs, which led to a renaissance in her career.
Columbia Pictures were asked to pay such a large fee for the insurance for Courtney Love that the company refused. Actor Woody Harrelson, producers Oliver Stone and Michael Hausman, director Milos Forman and even Love herself paid the insurance fee from their own pockets.
Courtney Love plays stripper Althea Flynt in the film. Before Courtney became famous she would work as a stripper.
Patricia Arquette, Mira Sorvino and Ashley Judd were also initially considered for the part of Althea Flynt.
Woody Harrelson's real brother Brett Harrelson plays Larry Flynt's brother "Jimmy".
Larry Flynt plays the part of Judge Morrissey at the Cincinnati court.
The final speech by Larry's attorney (played by Edward Norton) was actually copied from the real final speech given by Flynt's attorney Alan. L. Isaacman.
 Larry Flynt's villa where he lived at the beginning of the 1980s was used as one of the locations in the movie.
Flynt's physician Blaine Nashold M. D played the part of Doctor Bob.
Larry Flynt´s real life gold wheelchair is used by Woody Harrelson in the movie.
Although Edward Norton already had a successful career he took on the supporting role of Larry's attorney because he wanted to work with Milos Forman.
Donna Hanover Giuliani played the part of President Jimmy Carter's sister. At that time she was married to the Mayor of New York City: Rudi Giuliani.
The house in the film used as Flynt's residence in Ohio also served as a temporary home for Tom Cruise and his family while Cruise was shooting "The Firm" in Memphis. A tube of toothpaste Cruise left there is still kept in a glass case.
After its release, the film drew the attention of anti-porn feminists led by Gloria Steinem. In an article written by Steinem published in the New York Times she accused Forman and Oliver Stone of humiliating and degrading women. The article was followed by a United States campaign where she strongly attacked Forman's championing of Flynt. This negative campaign markedly blemished the film markedly, and that was supposedly the reason why it did not win an Academy Award.
Milos Forman about the movie
"I don't say you should like what Larry Flynt does. I don't like it either, but I admire the fact that I live in a country where I can make my own decisions. In a country where I can take Hustler and read it as well as throw it away, which I personally consider to be the right thing to do with it."
"Flynt had written his factual comments all over the screenplay which had unbelievable value for me. He was reciting his remarks and I was just making notes feverishly on the margins of the screenplay, until the moment Flynt turned the last page and he broke off. I mustered up my courage and I asked: "Larry, don't you mind that you do not really look like a hero in some of these scenes?" " Of course I do! Yes, I do mind, but what can I do about it when it´s true?" grunted Flynt.
"Before the release I was really nervous, and so therefore I was smoking a lot. The whole little cinema was full of smoke. Larry was sitting there without moving, half hidden by the smoke from my cigar, and he was staring at the screen. It took me a while to realize he had tears in his eyes. The only thing Flynt had seen was a glittering dream version of his Althea – the king of porn was more sentimental than a teenage poet".
Soundtrack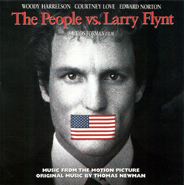 VA - People vs. Larry Flynt
Music:
Thomas Newman
Recorded:
Village Recorder Todd A/O
© 1996 Angel records
© 1996 Columbia Pictures Industries, Inc.
© 1977 Rhino Records, Inc.
© 1975 Warner Bros., Inc. Motion Pictures Artwork And Photography
CD
Eggsplat
Thomas Newman
00:12

Kentucky, 1952
Thomas Newman
02:46

Hello Walls
Faron Young
02:25

Hang On Sloopy
The McCoys
03:54

Tick Tick Tick
Thomas Newman
01:50

Jail Bait
Thomas Newman
01:08

Lewd And Shameful Manner
Thomas Newman
00:54

Cold Turkey Pervert
Thomas Newman
01:13

Battle Hymn Of The Republic
Ruby Wilson and Kurt Clayton
01:08

My Soul Doth Magnify The Lord
The Collins Chapel Youth Choir
01:47

Shooting (Georgia, 1978)
Thomas Newman
02:42

Porn Again
Thomas Newman
01:16

Polonaise
Antonín Dvorak: Rusalka
Performed by The Czech Philharmonic Orchestra, conductor Libor Pesek
00:58

Triple Dose
Thomas Newman
00:56

Surgery (North Carolina, 1983)
Thomas Newman
00:31

Fanfare And March
Bedrich Smetana: Dalibor
Performed by The Czech Philharmonic Orchestra, conductor Libor Pesek
02:18

The Half With The Brain
Thomas Newman
01:57

Psycho Ward
Thomas Newman
00:34

Althea
Thomas Newman
01:17

I'm Your Boogie Man
Harry W. Casey & Richard Finch: K.C. & The Sunshine Band
04:04

Twenty-One
Thomas Newman
00:57

Scumbag Like Me
Thomas Newman
01:51

Deep Depravity
Thomas Newman
00:40

Falwell Verdict (Virginia, 1984)
Thomas Newman
00:59

Happy You And Merry Me
Mae Questil
00:41

Los Angeles, 1987
Thomas Newman
01:20

Stabat Mater Dolorosa
Antonín Dvorák
Performed by The Czech Philharmonic Orchestra, conductor Libor Pesek
Prague's Philharmonic Children's Choir, choirmaster Pavel Kühn
01:10

Rosefall
Thomas Newman
00:40

Stabat Mater Dolorosa
Antonín Dvořák
Performed by The Czech Philharmonic Orchestra, conductor Libor Pesek
Prague's Philharmonic Children's Choir, choirmaster Pavel Kühn
07:34

Dream Weaver
Gary Wright
04:19
Locations
USA
Memphis, Tennessee

Riverside (scenery built for moviemaking)

Flynt's native home in Kentucky.

Peabody Hotel

A meeting of citizens association "For a decent literature" led by Charles Keating.

Memphis State University

The location of the Baptist Church.

The Shelby County Arena

The congress center in Cincinnati where Larry Flynt attends a meeting of the Association for freedom of press.

Abandoned Building of a Storehouse of a Train Station

Flynt's bedroom on the second floor of his mansion in Bel Air.
The original building of Flynt's publishing house.
The interior of the courthouse where Flynt's first legal proceeding is held.

Street in front of Tate County Courthouse, Senatobia

Flynt is shot and and injured.

Tributary of the River Mississippi

Larry Flynt is baptized in the river.

Beverly Hills, California

The Flynt Publications Building, 8484 Wilshire Boulevard

Larry Flint's publishing house. Jimmy and Larry's offices, corridors, etc. Interiors of the building and complete panorama.

Flynt's Mansion in Bel Air

A federal police intervention. Flynt is arrested.
Larry Flynt and Althea in their house in the 80's.
In the closing sequence of the film Flynt is watches a video of Althea.
The house is a part of a sequence where Flynt moves to California.

Hollywood Boulevard

A transsexual walks a dog down the street.

Washington D. C.

Supreme Court Building

Larry goes to the Supreme Court for the final trial. Crowds of people are assembling in front of the building.
Event
Place
Award
Category

W

/

N

1996
Oscar® - Academy Awards
(69th Annual)
Los Angeles
USA
Oscar®
Best Actor in a Leading Role
Woody Harrelson
("Larry Flynt")
Best Director
Milos Forman
Los Angeles Film Critics Association Awards (22nd Annual)
Los Angeles
USA
LAFCA (Los Angeles Film Critics Association Award)
Best Supporting Actor
Edward Norton
("Isaacman")
Best Supporting Actress
Courtney Love
("Althea Leasure")
New York Film Critics Circle Awards (62nd ceremony)
New York
USA
NYFCCA (New York Film Critics Circle Award)
Best Supporting Actress
Courtney Love
("Althea Leasure")
Boston Society of Film Critics Awards
Boston
USA
BSFC Award (Boston Society of Film Critics Award)
Best Supporting Actor
Edward Norton
("Isaacman")
Best Supporting Actress
Courtney Love
("Althea Leasure")
Society of Texas Film Critics Awards
Texas
USA
STFC Award (Society of Texas Film Critics Awards)
Best Supporting Actor
Edward Norton
("Isaacman")
National Board of Review
New York
USA
Freedom of Expression Award
Milos Forman, Oliver Stone
Broadcast Film Critics Association Awards
Los Angeles
USA
Critics Choice Award
Best Picture
Chicago Film Critics Association Awards
Chicago
USA
CFCA Award (Chicago Film Critics Association)
Most Promising Actor
Edward Norton
("Isaacman")
Most Promising Actress
Courtney Love
("Althea Leasure")
Florida Film Critics Circle Awards
Florida
USA
FFCC Award (Florida Film Critics Circle)
Best Supporting Actor
Edward Norton
("Isaacman")
Best Supporting Actress
Courtney Love
("Althea Leasure")
Southeastern Film Critics Association Awards
USA
SEFCA Award (Southeastern Film Critics Association)
Best Supporting Actor
Edward Norton
("Isaacman")
Political Film Society
Los Angeles
USA
PFS Award (Political Film Society)
Exposé
Human Rights
The International Press Academy's Satellite Awards
Los Angeles
USA
Golden Satellite Award
Best Motion Picture Screenplay - Original
Scott Alexandre, Larry Karaszewski
Best Performance by an Actress in a Supporting Role in a Motion Picture - Drama
Courtney Love
("Althea Leasure")
1997
Kansas City Film Critics Circle Awards
Kansas City
USA
KCFCC (Kansas City Film Critics Circle Award)
Best Film
Golden Globe Awards
(55th Annual)
Los Angeles
USA
Golden Globe
Best Director (Motion Picture)
Milos Forman
Best Screenplay (Motion Picture)
Scott Alexandre, Larry Karaszewski
Best Motion Picture (Drama)
Michael Hausman
Best Performance by an Actor in a Motion Picture (Drama)
Woody Harrelson ("Larry Flynt")
Best Performance by an Actress in a Motion Picture (Drama)
Courtney Love
("Althea Leasure")
Berlin International Film Festival
Berlin
Germany
Golden Bear
Milos Forman
Writers Guild of America Awards
Los Angeles
USA
Paul Selvin Honorary Award
Best Adapted Drama
Scott Alexandre, Larry Karaszewski
Screen Actors Guild Awards
Los Angeles
USA
Actor®
Outstanding Performance by a Male Actor in a Leading Role
Woody Harrelson
("Larry Flynt")
Casting Society of America, USA
Los Angeles
USA
Artios®
Best Casting for Feature Film (Drama)
Francine Maisler
(location casting: Jo Doster)
MTV Movie Awards
Santa Monica
USA
MTV Movie Award
Best Breakthrough Performance
Courtney Love
("Althea Leasure")
Czech Lions
Prague
Czech Republic
Czech Lion
The Most Successful Movie With Viewers
Milos Forman
Credits
Columbia Pictures presents
in Association with Phoenix Pictures an Ixtlan, production

Starring

Larry Flynt
Woody Harrelson
Althea Leasure
Courtney Love
Isaacman
Edward Norton
Charles Keating
James Cromwell
Arlo
Crispin Glover
Simon Leis
James Carville
Jimmy Flynt
Brett Harrelson
Ruth Carter Stapleton
Donna Hanover
Network Reporter
Norm MacDonald
Chester
Vincent Schiavelli
Miles
Miles Chapin
Jerry Falwell
Richard Paul
Judge Thomas Mantke (L. A. Court)
D'Army Bailey
Roy Grutman
Burt Neuborne
The Assassin
Jan Triska
Casting by
Francine Maisler
Music by
Thomas Newman
Costume Designers
Theodor Pistek, Arianne Phillips
Film Editor
Christopher Tellefsen
Production Designer
Patrizia von Brandenstein
Director of Photography
Philippe Rousselot
Written by
Scott Alexander, Larry Karaszewski
Produced by
Oliver Stone, Janet Yang, Michael Hausman
Directed by
Milos Forman
10 Year Old Larry
Cody Block
8 Year Old Jimmy
Ryan Post
Old Hillbilly
Robert Davis
Young Ma Flynt
Kacky Walton
Young Pa Flynt
John Ryan
1st Stripper
Kathleen Kane
Disc Jockey
Greg Roberson
Old Printer
Jim Peck
Trucker
Mike Pniewski
Staffer
Tim Parati
Staffer
Rick Rogers
Staffer
Dan Lenzini
Staffer
David Compton
Staffer
Gary Lowery
Stills Photographer
Stephen Dupree
Tovah
Rainbeau Mars
News Dealer
Tam Drummond
Ma Flynt
Nancy Lea Owen
Pa Flynt
John Fergus Ryan
Governor Rhodes
Oliver Reed
Jacuzzi Girl
Meresa T. Ferguson
Jacuzzi Girl
Andrena Fisher
Police Detective
Ken Kidd
Judge Morrissey (Cincinatti Court)
Larry Flynt
Jury Forewoman (Cincinatti Court)
Janie Paris
Court Clerk (Cincinatti Court)
Carol Russell-Woloshin
Rally Singer
Miss Ruby Wilson
Announcer at Rally
Eddie Davis
Ad Sales Guy
Blaine Pickett
Georgia Cops
Kerry White
Georgia Cops
Joey Hadley
Robert Stapleton
Chris Schadrack
Georgia Prosecutor
Mac Pirkle
Georgia Doctor
Mark W. Johnson
Flynt's Personal Bodyguard
Doug Bauer
Bodyguard
Roberto Roman Ramirez
Dr. Bob
Blaine Nashold
Cute Receptionist
Aurelia Thierree
Blow Dried Jerk
Scott Winters
Lawyer (L. A. Court)
Mike McLaren
Network Lawyer
Andrew Stahl
Delorean Attorney
Michael Detroit
Keating's Secretary
Jaime Jackson
Federal Marshall
David Dwyer
Deputy Marshall
Richard Birdsong
Deputy Marshall
James A. White
Butler
Gerry Robert Byrne
Bailiff (L. A. Court)
Benjamin Greene, Jr.
Mantke Clerk
Mary Neal Naylor
Springfield Prison Guard
Tiny M. Bates
Divinity Student
Evans Donnell
Divinity Student
Jay Adams
Dean Of Liberty College
Bennett Wood
Judge Kirk (Roanoke Court)
Janice Holder
Jury Foreman (Roanoke Court)
A. V. McDowell
Chief Justice Rehnouist
Jim Grimshaw
Justice Marshall
James Smith
Justice Scalia
Rand Hopkins
Justice Stevens
Charles M. Crump
Supreme Court Marhall
Pierre Secher
Svelte Reporter
Linn Sitler
Reporter
Mary M. Norman
Reporter
Jack Shea
Reporter
Lisa Lax
Georgia Reporter
Susan Howe
Georgia Reporter
Michael Davis
Georgia Reporter
Dennis Turner
Georgia Reporter
Patti Hatchett
Georgia Reporter
Ann Marie Hall
Georgia Reporter
Nate Bynum
Georgia Reporter
Paula Haddock
Georgia Reporter
Gary Kraen
Network Reporter
Norm MacDonald
L. A. Reporter
Jeff Johnston
Falwell Reporter
Joey Sulipeck
Falwell Reporter
Jim Palmer
D. C. Reporter
Gene Lyons
D. C. Reporter
Saida Pagan
D. C. Reporter
Jim Hild
D. C. Reporter
Michael Klastorin
TV Reporter At Supreme Court
Michelle Robinson
Associate Producers
Scott Ferguson
George Linardos
Unit Production Manager
Michael Hausman
1st Assistant Director
David McGiffert
2nd Assistant Director
Scott Harris
Production Supervisor
Gerry Robert Byrne
Art Directors
James Nezda, Shawn Hausman
Set Decorators
Maria A. Nay, Amy Wells
Assistant Art Directors
James Flood Truesdale, James Feng
Script Supervisor
Anne Gyory
A Camera Operator
Anastas N. Michos
B Camera Operator
Ted Morris
First Assistants Camera
Robin Melhuish, Brian Nordheim
Costume Supervisor
Nancy McArdle
Costumers
Lawrence Velasco, Stephanie Colin
Key Makeup
Ben Nye, Bron Roylance
Hairstylist
Melissa A. Yonkey
Chief Lighting Technician
Jack English
Best Boy
James Babineaux
Rigging Gaffer
Robert D. Carrier
Key Grip
J. Wayne Parker
Dolly Grip
Chris Rawlins, Jr.
Key Rigging Grips
Riko Schatke, Henry M. Massey
Stunt Coordinator
Tim Trella
Special Effects
Rodman Kiser
Production Coordinator
Chrissie Davis
Assistant Production Coordinators
Kimberly N. Fajen, Margo Hunt, Jennifer Silverman, Jennifer Jenkins
Production Accountant
Matilde P. Valera
Assistant to Mr. Harrelson
Danielle Tahos
Assistant to Mrs. Love
Raphael T. S. Murray
Assistant to Mr. Forman
Martina Zborilova
Assistant to Mr. Stone
Annie Mei-Ling Tien
Assistant to Ms. Yang
Janet Monagham
Location Manager
Betsy Bottando
Assistant Location Manager
Diana Strauss
Property Master
Bill Dambra
Assistant Property Master
David Chamerski
Buyer
Sarah Young
Construction Coordinator
Tyler Osman
Construction Shop Manager
Henning Molfenter
Construction Foreman
Troy Osman
Scenic Artist
John Snow
Camera Scenic Artist
Lee Ross
Lead Person
Leonard Spears
Key Set Dresser
David Weathers
On Set Dresser
Spencer Register
Transportation Captain
Jerry Jackson
Transportation Co-Captain
Rick Davis
Sound Mixer
Chris Newman
Boom Operator
Marc-Jon Sullivan
Cable Person
Gregg Harris
Additional Editor
Michael R. Berenbaum
First Assistant Editor
Joel Hirsch
Second Assistant Editor
Misako Shimizu
Apprentice Editors
Earl Dittebrandt, Arthur Schlenger
Supervising Sound Editor
Stan Bochner
Music Editor
Bill Bernstein
Sound Fx Editors
P. DeMetruis, Richard Quentin King
Dialogue Editors
Stuart Emanuel, Kevin Lee, Branca Mrkic
ADR Editor
Hal Levinsohn
Foley Editor
Ira Spiegel
Foley Artist
Brian Vancho
Assistant Sound Editors
Marlena Grzaslewicz, Michael W. Mitchell
Apprentice Sound Editor
Adam Lipsius
Assistant Music Editor
Jordan Corngold
Re-recording Mixer
Michael Barry
Music Recorded at
Village Recorder Todd A/O
Video Assist
Frankie Yario, Jr.
Second Second Assistant Director
Stephen Hagen
Production Assistants
John R. Saunders, Tobia Minckler, Doug Campbell, Darian Corley, John Brudenell, Barry Barclay, Heather Ross, Steven Samanen, Jana Triska, Karyn Usher
Draper
Shari Griffin
Publicist
Michael Klastorin
Stills Photographer
Sidney Baldwin
Casting Associates
Kathryn Eisenstein, Kathleen Driscoll-Mohler
Extras Casting
Willo Hausman, Kate Kennedy
Mid South Casting
Jo Doster, Kim Petrosky
Researchers
Ashley Cook, Barry Gildea
Magazine Photo Advisor
Ladi von Jansky
Mr. Harrelson's Dialect Coach
Nadia Venesse
Security for Mr. Harrelson
Steve Ranger
Catering
Unique Catering
Craft Service
Wende L. Martin
First Aid
Safety Emergency Services
Process Projection By
The Bran Ferren Group
Color Timer
David Pultz
Negative Cutter
J. G. Films
Opticals by
The Effects House
Color by
DuArt
Title Design and Digital Effects by
Balsmeyer & Everett

The Producers Acknowledge The Cooperation of

Consultant
Alan L. Isaacman (Isaacman, Kaufaman & Painter)
Soundtrack on Angel / Emi Records

Music

"Hello Walls"
Written by Willie Nelson
Performed by Faron Young
Courtesy of Capitol Nashville
under license from
Emi-Capitol Music Special Markets
"Country Girl"
Written by Roy Drusky
Performed by Faron Young
Courtesy of Capitol Nashville
under license from
Emi-Capitol Music Special Markets
"A Satidfied Mind"
Written by Red Hayes & Jack Rhodes
Performed by Porter Wagoner
Courtesy of The RCA Records Label
of BMG Entertainment
"Hang on Sloopy"
Written by Bert Russell & Wes Farrell
Performed by The McCoys
Courtesy of Columbia Records
by Arrangement with Sony Music Licensing
"Express Yourself"
Written by Charles Wright
Performed by Idris Muhammad
Courtesy of Fantasy
"Pick Up The Pieces"
Written by Roger Ball, Malcom Duncan, Alan Gorrie, Robbie McIntosh, Owen McIntyre & Hamish Stuart
Performed by Average White Band
Courtesy of Atlantic Recording eorp.
by Arrangement with
Warner Special Products & Average White Band
"I'm Your Boogie Man"
Written by Harry W. Casey & Richard Finch
Performed by KC & The Sunshine Band
Courtesy of Rhino records
by Arrangement with
Warner Special Products
"Dream Weaver"
Written and Performed by Gary Wright
Courtesy of Warner Bros. Records
by Arrangement with
Warner Special Products
"Tannhauser Overture"
Performed by New York Philharmonic
Conducted by Pierre Boulez
Courtesy of Sony Classical
by Arrangement with
Sony Music Licensing
"My Soul Doth Magnify The Lord"
Written by O'Landa Draper
Performed by The Collins Chapel Choir, Memphis, TN
Choir Director, Jon Reddick
Chopin "No. 47 in A Minor, Opus 68, No. 2"
Performed by Idil Biret
Courtesy of Naxos of America
by Arrangement with
Sourace/Q
"Fantasia on A.D.G."
Written by Jef Rottiers
Courtesy of Rene Gailly International
Productions Belgium
"Use Me"
Written by Jacquelyn Reddick & Jeanie McQuinn
Performed by The Collins Chapel Choir, Memphis, TN
Choir Director, Jon Reddick
"Happy You and Merry Me"
Written by Tot Seymour & Yee Lawnhurst
"Polonaise" form "Rusalka"
Written by Antonin Dvorak
Performed by The Czech Philharmonic Orchestra
Conducted by Libor Pesek
"Blessed Be The Name"
Arranged by Larry Mayfield
Courtesy of Zombia Music Services
"Fanfare and March" from "Dalibor"
Written by Bedrich Smetana
Performed by The Czech Philharmonic Orchestra
Conducted by Libor Pesek
Selections from "Stabat Mater"
Written by Antonin Dvorak
Performed by The Czech Philharmonic Orchestra
Conducted by Libor Pesek
and Kühn's Mixed Chorus
Chorus Master, Pavel Kühn

Special Thanks

The Supreme Court of The United States
Dr. W. W. Herenton, Mayor of Memphis
Jim Rout, Mayor of Shelby County
The Memphis & Shelby Co. Film, Tape and Music Commission
Tennessee Film, Entertainment & Music Commission
Shel Bachrach
Filmed in Panavision®
Prints by Technicolor®
Dolby®
SDDS - Sony Dynamic Digital Sound
© 1996 Columbia Pictures Industries
a Sony Pictures Entertainment company