"Ragtime is a loving, beautifully mounted, graceful film that creates its characters with great clarity. We understand where everyone stands, and most of the time we even know why."
The film "Ragtime"is a tragicomic mosaic that follows several characters, including the black pianist Coalhouse Walker Jr. When a group of white firemen attack and ruin Walker Jr.'s car, he unsuccessfully attempts to attain justice.
In order to defend his race's dignity, Walker Jr. decides to ignore the advice of the police and take matters into his own hands. The film is set in the United States at the beginning of 20th century, which was a time full of hope and tragedy. This was a time when the American people were a melting pot of immigrants, groups of adventurers, artists and dreamers, and the nation was on the verge of becoming a world power.
About the movie
The film adaptation of the bestseller "Ragtime" by E. L. Doctorow takes us back to a period before the America we know was formed.
The film begins with a respectable trader who takes care of a little black boy and his lonely mother Sarah. The child's father, the famous pianist Coalhouse Walker Jr., plans to marry Sarah, however his plans are interrupted when a group of volunteer firemen assult him and ruin his brand new car.
The police advise Walker Jr. to walk away from the crime, but he demands justice. The film culminates with the violent death of his fiancée.
Throughout the film, the trader who took care of Sarah and her son watches helplessly as everything falls apart. The trader tries to lead his life according to the principles and values of America's founding fathers. Unfortunately, these principles fail in the face a changing society.
This material enabled Forman to work with themes that were familiar to him as an emigrant. Forman's films typically focus on unlikely heroes who in spite of obstacles remain human. Nonetheless, Forman often focuses on the bizarre and touching rather than document a broader historical moment.
Trivia
The legendary James Cagney came back from his acting retirement to play the role of Police Commissioner Rhinelander Waldo. Cagney acted in the film opposite his former co-star Pat O'Brien.
The film depicts several historical figures (J. P. Morgan, Harry Houdini, Booker T. Washington, Emma Goldman and Stanford White) alongside fictional characters. For example, Evelyn Nesbit (Elizabeth McGovern) was a real beauty from high society who married the millionaire Harry K. Thaw. Thaw killed her lover  (architect Stanford White) out of jealousy.
The movie was nominated for eight Oscars, seven Golden Globes and a Grammy for best original soundtrack but it didn't actually win any awards.
Several celebrities appear in the film: Norman Mailer plays the role of Stanford White who was the architect of Madison Square Garden; Jack Nicholson plays an actor playing a pirate; And a young Samuel L. Jackson plays a member of the Coalhouse gang.
Milos Forman cast a few of his Czech friends in the film: Jan Triska plays a reporter, and Pavel Landovsky plays Tateh's wife's lover.
The film was produced by the famous producer Dino De Laurentiis who bought the rights for the bestseller by E. L. Doctorow.
The producer Dino De Laurentiis considered two directors for "Ragtime": Robert Altman and Milos Forman.
 When James Cagney appeared in "Ragtime" he was 81 years old.  The real Commissioner Rhinelander Waldo was only 32 at the time the movie took place.
Before "Ragtime" James Cagney hadn't acted for quite a long time. During one of Forman's visits in the actor's house in Connecticut, he noticed that the only poster Cagney had in his house was for the original "Hair" on Broadway. Cagney's friend declared that it as an omen and pushed the old man to read Forman's new script. Forman offered him to choose the role he liked and Cagney chose the role of the police inspector.
The role of Harry K. Thaw was originally meant for Jack Nicholson but he was too busy.
Because the movie was too long a twenty-minute sequence that told the story of Emma Goldman was taken out. Although Forman defended the scene the film's producer let the author of the novel E. L. Doctorow decide whether they should put it back it. After Doctorow watched the shortened version of the film, he said that he hadn´t missed anything, and so the sequence was omitted.
Milos Forman about the movie
"Dino De Laurentiis had called me right after "One Flew Over the Cuckoo's Nest" to ask if I'd be interested in adapting the novel "Ragtime" by E.L. Doctorow to film. I had read the book so I knew it was beautifully written. The novel was crawling with characters whose stories Doctorow sketched in and quickly moved on. There could have been several completely different movies made of the book, which was a challenge that excited me, so I took Dino up on his offer."
"I had some knowledge of Walker's dilemma from Prague. In the everyday life of communist Czechoslovakia, you constantly found yourself before ignorant, powerful people who didn't mind casually humiliating others. You risked your livelihood and maybe your life by defying them."
"I noticed that the famous architect Stanford White looked remarkably like Norman Mailer. He agreed and did a fine audition so I cast him as the architect. During the filming his scene I was as jittery at the prospect of directing the great and notorious author as he was about acting."
Making of
Remembering Ragtime
19 min., color
© 2004 Light & Source production
Soundtrack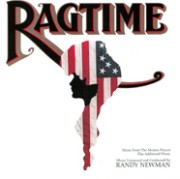 Ragtime (1981 Film Soundtrack)
Music:
Randy Newman, C. Freeman, E. Woolfe
Recorded:
Amigo and Evergreen Studios, Los Angeles, California
© 1981 Elektra / Records and Types (LP)
© 2002 Elektra Entertainment, Rhino Entertainment, Warner Music Group, AOL Time Warner 
Comp. (CD, digitally remastered)
LP/CD
| | |
| --- | --- |
| I Could Love a Million Girls | 02:01 |

| | |
| --- | --- |
| Tateh's Picture Book | 01:41 |

| | |
| --- | --- |
| Coalhouse and Sarah | 01:36 |

One More Hour
Singer: Jennifer Warnes
02:47

| | |
| --- | --- |
| Sarah's Responsibility | 00:54 |

Ragtime Theme (Demo)
(bonus on remastered CD)
02:36
Locations
USA
New York City, New York

81 West Main Street, Mount Kisco

The house of a fireworks trader. Their maid finds an abandoned black baby. The family takes care of the baby and mother. Coalhouse meets his fiancée, Sarah.

Public Baths and attached block of houses, East of 11th Street

Evelyn Nesbit meets Tateh.

Bedford

A Firehouse. Volunteer firemen block Coalhouse's car.

St Luke's Place, Greenwich Village, Manhattan

Tateh goes to Philadelphia with his daughter. In Philadelphia he sells his idea of moving pictures to a trader.

Spring Lake, New Jersey

Promenade in front of Essex and Sussex Hotel

The fireworks trader's family takes refuge in Atlantic City with the Coalhouse's baby.
Great Britain
Shepperton, Surrey

Film Studios Shepperton

Coalhouse barricades himself in the library and threatens to blow it up (Morgan's Library).

London

The police surround Morgan's Library.
Event
Place
Award
Category

W

/

N

1981
Los Angeles Film Critics Association Awards
(7th Annual)
Los Angeles
USA
LAFCA (Los Angeles Film Critics Association Award)
Best Music Score
Randy Newman
1982
Oscar® - Academy Awards
(54th Annual)
Los Angeles
USA
Oscar®
Best Actor in a Supporting Role
Howard E. Rollins Jr.
("Coalhouse Walker Jr.")
Best Actress in a Supporting Role
Elizabeth McGovern
("Evelyn Nesbit")
Best Art Direction
Art Direction
John Graysmark, Patrizia Von Brandenstein, Anthony Reading
Set Decoration
George De Titta Sr., George De Titta Jr. Peter Howitt
Best Cinematography
Miroslav Ondricek
Best Costume Design
Anna Hill Johnstone
Best Music (Original Score)
Randy Newman
Best Music (Original Song)
"One More Hour"
Music and Lyric by Randy Newman
Best Adapted Screenplay
Michael Weller
Golden Globe Awards
(39th Annual)
Los Angeles
USA
Golden Globe
Best Motion Picture (Drama)
Dino De Laurentiis
Best Performance by an Actress In A Supporting Role in a Motion Picture
Mary Steenburgen
("Mother")
Best Performance by an Actor In A Supporting Role in a Motion Picture
Howard E. Rollins Jr.
("Coalhouse Walker Jr.")
Best Director - Motion Picture
Milos Forman
Best Original Song - Motion Picture
"One More Hour"
Music & Lyrics by Randy Newman
New Star Of The Year (Actress)
Elizabeth McGovern ("Evelyn Nesbit")
New Star Of The Year (Actor)
Howard E. Rollins Jr.
("Coalhouse Walker Jr.")
BAFTA Awards (The British Academy of Film and Television Arts)
London
United Kingdom
BAFTA Film
Best Original Song
"One More Hour"
Randy Newman
The NAACP Image Awards
Los Angeles
USA
Image Award
Best Performance by a Supporting Actor in a Motion Picture
Moses Gunn
("Booker T. Washington")
Best Motion Picture
Writers Guild of America Awards
Los Angeles
USA
Writers Guild Award (Screen)
Best Adapted Drama
Michael Weller
1983
Grammy Awards
(25th Annual)
Los Angeles
USA
Grammy
Best Album of Original Score Written for a Motion Picture or Television Special
Randy Newman
2003
The International Press Academy's Satellite Awards
(9th Annual)
Los Angeles
USA
Satellite Awards - New Media
Classic DVD - Paramount
Credits
Paramount A Gulf + Western Company
Dino de Laurentis presents
A Sunley Production
Based on the novel by E. L. Doctorow
Screenplay by
Michael Weller
Produced by
Dino de Laurentis
Directed by
Milos Forman
New York Police Commissioner Rheinlander Waldo
James Cagney

Starring

Younger Brother
Brad Dourif
Booker T. Washington
Moses Gunn
Evelyn Nesbit
Elizabeth McGovern
Willie Conklin
Kenneth McMillan
Delmas
Pat O'Brien
Evelyn's Dance Instructor
Donald O'Connor
Father
James Olson
Tateh
Mandy Patinkin
Coalhouse Walker Jr.
Howard E. Rollins Jr.
Mother
Mary Steenburgen
Sarah
Debbie Allen
Houdini
Jeff Demunn
Harry K. Thaw
Robert Joy
Scanford White
Norman Mailer
Music by
Randy Newman
Executive Producers
Michael Hausman, Bernard Williams
Associate Producer
Frederic M. Sidewater
Director of Photography
Miroslav Ondricek
Production Designer
John Graysmark
Costume Designer
Anna Hill Johnstone
Art Directors
Patrizia von Brandenstein (USA)
Anthony Reading (UK)
Film Editors
Anne V. Coates, Antony Gibbs (UK)
Stanley Warnow (USA)
Choreographer
Twyla Tharp
Production Manager
Pat Churchill (USA)
First Assistant Director
Michael Hausman
Second Assistant Director
Joel Tuber (USA)
Production Manager
Malcolm Christopher (UK)
Second Assistant Directors
Michael Stevenson, Andy Armstrong, Ken Touhy (UK)
Set Decorators
George De Titta Sr., George De Titta Jr. (USA)
Peter Howitt (UK)
Assistant Art Directors
John Dapper, May Callas (USA)
Steve Spence, Ted Clements (UK)
Casting
Mary Goldberg (USA)
Maggie Cartier (UK)
Hair by
Leonard of London
Property Master
Joe Caracciolo Jr.
Gaffer Electricians
Richard Quinlan (USA)
Maurice Gillette (UK)
Key Grip
Ed Quinn
Special Effects Supervisors
Ed Drohan (USA)
George Gibbs (UK)
Makeup Artist
Max Henriquez, Joe Cuervo (USA)
Paul Engelen, Peter Frampton (UK)
Hairdressers
Robert Grimaldi, Frank Bianco (USA)
Colin Jamison, Stephanie Hall (UK)
Associate Costume Designers
Peggy Farrell, John Boyt (USA)
Wardrobe Supervisors
Marilyn Putnam (USA)
Ron Beck (UK)
Wardrobe Assistants
Janet Tebrooke, Ian Hickinbottom (UK)
Bill Christians (USA)
Camera Operator
Thomas A. Priestley Jr.
Camera Assistants
Vinnie Gerardo (USA)
Douglas Milsome (UK)
2nd Camera Operators
Ronald M. Lautore (USA)
Peter MacDonald (UK)
Script Supervisor
Martha Pinson
Sound Mixer
Chris Newman
Boom Operators
Dennis Maitland II (USA)
Ken Weston, Roland Fowles (UK)
Dubbing Mixer
Gerry Humphreys
Sound Editors
Les Wiggins, Archie Ludski
Assistant Sound Editors
Terry Busby, Nigel Galt
Post-Production Co-Ordinator
Roberta Friedman (USA)
Associate Editor
Nena Danevic (USA)
Assistant Editors
Leslie Gaulin, Patrick Mullins (USA)
Peter Honess, Chris Kelly, Patrick Moore (UK)
Location Managers
Richard Brick (USA)
Terry Needham (UK)
Production Co-Ordinator
Golda Offenheim
Production Office Co-Ordinator
Adeline Leonard Seakwood (USA)
Production Secretary
Marilyse Morgan (UK)
Location Co-Ordinators (USA)
David Ticotin, Lee Mayes, Shawn Hausman, Regge Life, Carol Cuddy, Christopher Goode
Assistant to Mr. Cagney
Marge Zimmerman
Assistant to Mr. Forman
Amy Ness
Consultant to Mr. Forman
Miroslav Hajek
Special Photographer
Mary Ellen Mark
Supervising Accountant
Len Barnard
Production Accountant
Mary Breen-Farrelly
Assistant Accountant (NY)
Martha Schumacher
Assistant Choreographer
Terry Gilbert
Researcher
Charles Musser
Music Coach to Mr. Rollins
Stanley Cowell
Casting Associate
Patricia Golden (USA)
Unit Publicist
Gordon Arnell
Publicity Assistant
June Broom
Still Cameramen
Bob Penn, Muky Munkacsi
Process Photography
Charles D. Staffell
Construction Managers
Vic Simpson (UK)
Carlos Quiles Sr. (USA)
Property Master
Bert Hearn (UK)
Property Buyer
John Lanzer (UK)
Scenic Artists
Edward Garzero (USA)
Ted Michell (UK)
Head Construction Grip
Joe Williams Sr. (UK)
Camera Grip
Tony Gridlin (UK)
Stunt Co-Ordinator
Vic Magnotta (USA)
Trasport Captains
James J. Fanning (USA)
Gerald Makein (UK)
Music Recorded at
Amigo and Evergreen Studios Los Angeles, California
Music Editor
John Strauss
Music Consultant
Gilbert Marouani
Orchestrations
Jack Hayes
Song "One More Hour"
Words & Music by Randy Newman
Sung by Jennifer Warnes
Sound Track Available on
Elektra / Asylum, Records and Types
Main & End Titles Produced and Designed by
R. Greenberg Associates, New York City
Recorded at Twickenham Film Studios London
Filmed in Todd-Ao®
Color by Technicolor®
Jerome
Bruce Boa
Brigit
Hoolihan Burke
Gent No. 1 - Agent
Norman Chancer
Grandfather
Edwin Cooper
P.C. O'Donnell
Jeff Daniels
Mameh
Fran Drescher
Gang Member No. 1
Frankie Faison
Police Captaing No. 1
Hal Galili
Judge
Alan Gifford
Delmas Assistant No. 1
Richard Griffiths
Gang Member No. 2
Samuel L. Jackson
Special Reporter
Michael Jeter
Gang Member No. 3
Calvin Levels
Old Lady (T.O.C.)
Bessie Love
Police Captaing No. 2
Christopher Malcolm
Vernon Elliott
Herman Meckler
Delmas Assistant No. 2
Billy J. Mitchell
Little Girl
Jenny Nichols
Little Boy
Max Nichols
Gent No. 2 - Manager
Zack Norman
Mrs. Thaw
Eloise O'Brien
Inspector Mc Neil
Don Plumley
Black Lawyer
Ted Ross
Gang Member No. 4
Dorsey Wright
Foreman of the Jury
Robert Arden
Teddy Roosevelt
Robert Boyd
Vice President Fairbanks
Thomas A. Carlin
Plainclothes Detective No. 1
John Clarkson
Fireman No. 1
Brian E. Dean
County Clerk
Harry Ditson
Gent with Stanford White
Robert Dorning
Police Guard (T.O.C.)
Geoffrey Greenhill
Policeman No. 12
Ray Hassett
Plainclothes Detective No. 2
Robert Hitt
Sleek Male Dancer
Rodney James
Band Leader, Clef Club
George Harris
Novelty Shop Storeman
George J. Manos
Clef Club Manager
Val Pringle
Doctor Muller
Ron Weyand
Evelyn's Driver
Sonny Abagnale
Waldo's Aide No. 1
John Alderson
Policeman No. 5
Nesbitt Blaisdell
Rabbi
Chaim Blatter
J. P. Morgan
Donald Bisset
Stunt Fireman
Joe Cirillo
Fireman No. 3
Josh Clark
Desk Clerk
Robert Coffin
Waldo's Aide No. 3
Patrick Connor
Policeman No. 11
Joel Cutrara
Fireman No. 2
Jake Dengel
Stage Manager
Barry Dennen
Woman No. 1
Natalia Dobrer
Stunt Fireman
Frank Ferrara
Stock Reporter
Daniel Foley
Elderly Woman
Gretchen Franklin
Stunt Fireman
Nick Giangiulio
Thug No. 2
Pat Gorman
Black Butler No. 2
Guy Gregory
Thug No. 1
Dave Griffiths
Policeman No. 13
Jeff Harding
Elderly Man
Robert Henderson
Lawyer's Female Companion No. 1
Collette Hiller
Policeman No 7
Patrick M. Hughes
Lawyer's Female Companion No. 2
Elaine Ives-Cameron
Policeman No. 3
Andreas Katsulas
Police Sergeant
Douglas Lambert
Solomon Peretz
Pavel Landovsky
Lady with Stanford White
Norris Mailer
Waldo's Aide No. 2
Derek Martin
Maitre D'
Al Matthews
Marksman
Stuart Milligan
Stock Reporter
Richard Oldfield
Woman in Window
Nelly Polissky
Thug No. 4
Mike Potter
Policeman No. 9
Anthony Powell
Guard at Family House
Ethan Phillips
Policeman No. 8
Joe Praml
Fireman
John Ratzenberger
Gent No. 3 - Lawyer
Bill Reimbold
Policeman No. 10
Bob Sherman
Stock Reporter
Tony Sibbald
Thug No. 3
Stan Simmons
Libary Guard
John Sterland
Special Reporter
Jan Triska
Reporter
Burnell Tucker
Black Butler No. 3
Britt Walker
Stock Reporter
Peter Whitman
Conductor
Edward Wiley

The Producers would like to thank

The Mayor's Office for Film, Theatre and Broadcasting, New York City
The New York City Police Department, Movie-TV Unit for all their kind co-operation during the making of this film

Made by Tagtime Productions on location in

New York, New Jersey and Connecticut, USA
London locations and at Shepperton Studio Centre, England
© 1981 Sunley Holdings