"Ragtime è una film delicato e sofisticato, che cura con attenzione i caratteri dei personaggi, ben definiti. Allo spettatore sono chiare le loro intenzioni e per la maggior parte della pellicola anche le motivazioni."
Il mosaico tragicomico dei destini dei protagonisti di questa storia  è collegato alle vicende  del pianista di colore Coalhouse Walker Jr., un giovane uomo per bene, al quale un gruppo di vigili del fuoco bianchi demolisce senza alcun motivo l´ auto nuova. Tutti i suoi tentativi legali di ripristinare la giustizia però falliscono.
In nome del rispetto per se stesso e per la sua razza allora prende la giustizia nelle proprie mani e, armato, richiede la restituzione  della macchina da parte dei colpevoli. La pellicola ci porta negli USA all´inizio del ventesimo secolo, un periodo carico di aspettative ma anche di storie tragicomiche, nelle quali la nazione americana si fondava al ritmo di ragtime, composta dal miscuglio di immigrati, gruppi di avventurieri, artisti e sognatori, una nazione che stava per ottenere la supremazia su tutto il mondo.
Soggetto
Un adattamento del best-seller di E. L. Doctorow Ragtime ci riporta  agli albori  dell'America contemporanea, fondata sulla convinzione che già da domani possiamo rendere la nostra vita migliore. La trama segue i destini tragicomici di questa lotta tempestosa e spesso inutile, dalla quale è nata l´odierna società statunitense .
Un onesto  commerciante di fuochi d'artificio si prende cura di un bambino di colore abbandonato e della sua mamma, Sarah. In poco tempo si scopre che il padre di questo bambino è il pianista nero Coalhouse Walker Jr., da poco   diventato un musicista riconosciuto , che decide poi di voler sposare Sarah. Arrivando in chiesa però un gruppo di vigili del fuoco volontari gli blocca la strada. Mentre sta chiedendo a un poliziotto di intervenire e di far liberare il passaggio, defecano sulla sua auto.
Il poliziotto consiglia al giovane musicista di pulirsi la macchina e continuare il percorso, ma Walker Jr. richiede un risarcimento. La trama prosegue gradualmente sino alla tragica morte di Sarah, mentre chiede giustizia per il fidanzato al meeting elettorale del presidente Theodor Roosevelt.
Il commerciante, che si è preso cura della fidanzata e del figlio di Coalhouse, non riesce a fare altro che seguire le loro vicende e a rendersi conto della propria impotenza. Il bonario patriarca silenzioso cerca di guidare tutta la famiglia secondo i principi e i valori dei padri fondatori degli Stati Uniti, ma fallisce nei confronti della violenza della società .
La trama ha permesso a  Forman di esprimersi su temi che sentiva molto vicino, essendo un immigrato. Tipicamente secondo lo spirito dello stile del regista, la grande storia è documentata attraverso il destino di piccoli personaggi che nonostante tutte le peripezie rimangono in fondo sempre esseri umani, un po' grotteschi e un po' commoventi.
Curiosita´
Per il ruolo del Commissario di Polizia Rhinelander Wald, il leggendario James Cagney ha interrotto la pensione artistica, ed è addirittura ricomparso affianco al suo vecchio compare Pat O'Brien.
Nella trama del film compaiono diversi personaggi storici (J. P. Morgan, Harry Houdini, Booker T. Washington, Emma Goldman oppure Stanford White) insieme a figure drammatiche di pura invenzione. Per esempio Evelyn Nesbit (Elizabeth McGovern) è stata una bellissima donna reale dell'alta società che ha sposato il milionario Harry K. Thaw, il quale poi per motivi di gelosia ha ucciso il suo presunto amante, l'architetto Stanford White.
Il film è stato nominato ad otto Oscar, sette Golden Globe e infine anche al Grammy per la colonna sonora, ma alla fine non ha ottenuto nessuno di questi premi.
Nel film  compare, per ruoli minori, un nutrito gruppo  di persone famose. L´architetto  del Madison Square Garden, Stanford White, viene interpretato  dallo scrittore Norman Mailer. In una scena si presenta anche Jack Nicholson nella parte di un attore che  interpreta un pirata. Nel mini-ruolo  di un membro della gang di Coalhouse compare anche un giovanissimo Samuel L. Jackson.
Nella pellicola recitano anche attori cechi, amici di Milos Forman. Jan Triska nel ruolo di un giornalista e Pavel Landovsky nei panni di un ammiratore della moglie infedele di Tateh.
Il film è stato prodotto da Dino De Laurentis, il famoso produttore di Federico Fellini, che aveva comprato i diritti del best-seller di E. L. Doctorow.
Il produttore Dino De Laurentis avrebbe dovuto decidere a chi assegnare Ragtime tra due registi, Robert Altman e appunto Milos Forman.
L'attore James Cagney ha compiuto ottantuno anni  durante  le riprese, anche se il vero commissario Rhinelander Wald ne aveva, nel periodo nel quale e´ ambientato   il film, solo trentadue.
James Cagney era ormai inattivo  da molto tempo e tutte le proposte le aveva respinte senza scrupoli. Durante una delle visite di Forman nella casa dell'attore nel Connecticut si è scoperto che l'unica locandina che Cagney teneva in casa sua era quella della prima presentazione di Hair a Broadway. Una sua amica ha definito questa cosa un segno ed ha spinto l´attempato attore  a leggere la sceneggiatura. Contemporaneamente Forman gli ha proposto di scegliersi qualsiasi ruolo gli fosse piaciuto, anche nel caso avesse voluto interpretare Evelyn Nesbit, gliel´avrebbe concesso. Alla fine però Cagney scelse il commissario.
Nel ruolo di Harry K. Thaw avrebbe dovuto originariamente recitare Jack Nicholson, ma a causa dei troppi impegni è stato costretto a rinunciare.
La pellicola, che Forman considerava ultimata, superava  gli standard della durata, in seguito a ciò è stata tagliata tutta la sequenza di venti minuti che raccontava la storia di Emma Goldman. Forman l´ha difesa sino all'ultimo, così il produttore ha fatto decidere allo stesso autore del romanzo, E. L. Doctorow,   se tenerla o eliminarla . Dopo aver visto la versione accorciata, si espresse dichiarando che al film non mancava nulla e la questione fu chiusa.
Milos Forman sul film
"Appena ultimate le riprese di  Qualcuno volò sul nido del cuculo mi chiamò Dino De Laurentis e mi chiese se non avessi avuto voglia di adattare cinematograficamente il romanzo Ragtime di E. L. Doctorow. Avevo letto quel libro e sapevo che era geniale. Ci sono un sacco di personaggi dei quali le personalità sono difatti solo delle bozze che Doctorow ha lasciato così, non dettagliate, continuando a rincorrere   la storia. Di questo romanzo si potevano fare un sacco  di film totalmente diversi tra di loro ed era questo che mi attraeva, quindi per questo accettai la proposta di Dino ."
"Il dilemma di Walker mi era fin troppo familiare dai tempi in cui vivevo a Praga. Nella Cecoslovacchia comunista ognuno doveva scontrarsi continuamente con degli stupidi che però avevano il potere e si dilettavano ad umiliare gli altri. Chi si opponeva, rischiava di compromettere la propria ´esistenza  e qualche volta anche la vita stessa."
"Notai che il famoso architetto Stanford White assomigliava fisicamente allo scrittore Norman Mailer. Lui accetto´ di recitare, e riprendemmo dei provini fantastici, quindi gli assegnai il ruolo dell'architetto. Durante le riprese della sua scena eravamo entrambi nervosissimi, lui a causa del suo ruolo ed io dal fatto che dovevo dirigere uno scrittore famoso."
Il documentario sulle riprese
Remembering Ragtime
19 min., colore
© 2004 Light & Source Production
Colonna sonora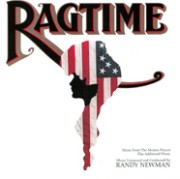 Ragtime (1981 Film Soundtrack)
Musica:
Randy Newman, C. Freeman, E. Woolfe
Registrato presso:
Amigo and Evergreen Studios, Los Angeles, California (USA)

© 1981 Elektra / Records and Types (LP)
© 2002 Elektra Entertainment, Rhino Entertainment, Warner Music Group, AOL Time Warner Comp. (CD, Rimasterizzazione Digitale)
LP/CD
| | |
| --- | --- |
| I Could Love a Million Girls | 02:01 |

| | |
| --- | --- |
| Tateh's Picture Book | 01:41 |

| | |
| --- | --- |
| Coalhouse and Sarah | 01:36 |

One More Hour
Voce: Jennifer Warnes
02:47

| | |
| --- | --- |
| Sarah's Responsibility | 00:54 |

Ragtime Theme (Demo)
(Bonus su CD rimasterizzato)
02:36
Location
USA
New York City, New York

81 West Main Street, Mount Kisco

La casa della famiglia del commerciante di fuochi d'artificio. Una serva trova un bambino di colore, abbandonato. La famiglia se ne prende cura e, più tardi, accoglie anche  sua madre, Sarah.  Coalhouse inizia a visitare la fidanzata.

11a strada East, terme pubbliche e blocco di case adiacenti

Nel quartiere d'immigrati s'incontrano Evelyn Nesbit e Tateh.

Bedford

Caserma dei vigili del fuoco. I vigili volontari bloccano la strada a Coalhouse e defecano sulla sua auto.

St Luke's Place, Greenwich Village, Manhattan

Tateh con la figlioletta arriva a Philadelphia, dove vende la sua idea di   immagini in movimento  a un rivenditore  di cose bizzarre.

Spring Lake, New Jersey

Il corso di fronte agli alberghi Essex e Sussex Hotel

La famiglia del commerciante di fuochi d'artificio si reca ad Atlantic City per proteggiere il figlio di  Coalhouse dalla stampa e dalla polizia. La madre incontra Tateh, che sta girando delle scene   sulla spiaggia.
Regno Unito
Shepperton, Surrey

Studio Cinematografico Shepperton

Coalhouse si è barricato nella biblioteca e minaccia di farla esplodere se la polizia non gli consegna   il capo dei vigili e una macchina nuova. ( Biblioteca dei Morgan)

Londra

La polizia circonda la biblioteca dei Morgan.
Evento
Luogo
Premio
Categoria

P

/

N

1981
Premio dell´Associazione dei Critici Cinematografici di Los Angeles
(7o Anno)
Los Angeles
USA
Premio LAFCA (Los Angeles Film Critics Association)
Miglior Colonna sonora
Randy Newman
1982
Oscar® - Academy Award
(54o Anno)
Los Angeles
USA
Oscar®
Miglior Attore non protagonista
Howard E. Rollins Jr.
("Coalhouse Walker Jr.")
Miglior Attrice non protagonista
Elizabeth McGovern
("Evelyn Nesbit")
Miglior Scenografia
John Graysmark, Patrizia Von Brandenstein, Anthony Reading
George De Titta Sr., George De Titta Jr. Peter Howitt
Miglior Fotografia
Miroslav Ondricek
Migliori Costumi
Anna Hill Johnstone
Migliore Colonna sonora originale
Randy Newman
Miglior Canzone originale
"One More Hour"
musica e testo di Randy Newman
Miglior Sceneggiatura non originale
Michael Weller
Golden Globes
(39o Anno)
Los Angeles
USA
Golden Globe
Miglior Film Drammatico
Dino De Laurentiis
Miglior Attrice non protagonista
Mary Steenburgen
("Madre")
Miglior Attore non protagonista
Howard E. Rollins Jr.
("Coalhouse Walker Jr.")
Miglior Regista
Milos Forman
Miglior Canzone originale
"One More Hour"
musica e testo di Randy Newman
Nuova star dell´anno(Attrice)
Elizabeth McGovern ("Evelyn Nesbit")
Nuova star dell'anno (Attore)
Howard E. Rollins Jr.
("Coalhouse Walker Jr.")
BAFTA Awards (Premio dell´Accademia Britannica delle Arti Cinematografiche e Televisive)
Londra
Regno Unito
Premio BAFTA Film
Miglior Canzone originale
"One More Hour"
Randy Newman
The NAACP Image Awards
Los Angeles
USA
Premio Image
Miglior Performance Cinematografica di un attore non protagonista Moses Gunn (""Booker T. Washington"")
Miglior Film
Premio dell´ Associazione degli Sceneggiatori Americani
Los Angeles
USA
Premio WGA (Writers Guild Award - Screen)
Miglior Sceneggiatura non originale (film drammatico)
Michael Weller
1983
Grammy Awards
(25o Anno)
Los Angeles
USA
Premio Grammy
miglior album delle canzoni originali scritte per un film, televisione o altri media audio-visivi
Randy Newman
2003
The International Press Academy's Satellite Awards
(9o Anno)
Los Angeles
USA
Premio Satellite - New Media
DVD Classico - Paramount
Cast & Credits
Paramount A Gulf + Western Company
Dino de Laurentis presents
A Sunley Production
Based on the novel by E. L. Doctorow
Screenplay by
Michael Weller
Produced by
Dino de Laurentis
Directed by
Milos Forman
New York Police Commissioner Rheinlander Waldo
James Cagney

Starring

Younger Brother
Brad Dourif
Booker T. Washington
Moses Gunn
Evelyn Nesbit
Elizabeth McGovern
Willie Conklin
Kenneth McMillan
Delmas
Pat O'Brien
Evelyn's Dance Instructor
Donald O'Connor
Father
James Olson
Tateh
Mandy Patinkin
Coalhouse Walker Jr.
Howard E. Rollins Jr.
Mother
Mary Steenburgen
Sarah
Debbie Allen
Houdini
Jeff Demunn
Harry K. Thaw
Robert Joy
Scanford White
Norman Mailer
Music by
Randy Newman
Executive Producers
Michael Hausman, Bernard Williams
Associate Producer
Frederic M. Sidewater
Director of Photography
Miroslav Ondricek
Production Designer
John Graysmark
Costume Designer
Anna Hill Johnstone
Art Directors
Patrizia von Brandenstein (USA)
Anthony Reading (UK)
Film Editors
Anne V. Coates, Antony Gibbs (UK)
Stanley Warnow (USA)
Choreographer
Twyla Tharp
Production Manager
Pat Churchill (USA)
First Assistant Director
Michael Hausman
Second Assistant Director
Joel Tuber (USA)
Production Manager
Malcolm Christopher (UK)
Second Assistant Directors
Michael Stevenson, Andy Armstrong, Ken Touhy (UK)
Set Decorators
George De Titta Sr., George De Titta Jr. (USA)
Peter Howitt (UK)
Assistant Art Directors
John Dapper, May Callas (USA)
Steve Spence, Ted Clements (UK)
Casting
Mary Goldberg (USA)
Maggie Cartier (UK)
Hair by
Leonard of London
Property Master
Joe Caracciolo Jr.
Gaffer Electricians
Richard Quinlan (USA)
Maurice Gillette (UK)
Key Grip
Ed Quinn
Special Effects Supervisors
Ed Drohan (USA)
George Gibbs (UK)
Makeup Artist
Max Henriquez, Joe Cuervo (USA)
Paul Engelen, Peter Frampton (UK)
Hairdressers
Robert Grimaldi, Frank Bianco (USA)
Colin Jamison, Stephanie Hall (UK)
Associate Costume Designers
Peggy Farrell, John Boyt (USA)
Wardrobe Supervisors
Marilyn Putnam (USA)
Ron Beck (UK)
Wardrobe Assistants
Janet Tebrooke, Ian Hickinbottom (UK)
Bill Christians (USA)
Camera Operator
Thomas A. Priestley Jr.
Camera Assistants
Vinnie Gerardo (USA)
Douglas Milsome (UK)
2nd Camera Operators
Ronald M. Lautore (USA)
Peter MacDonald (UK)
Script Supervisor
Martha Pinson
Sound Mixer
Chris Newman
Boom Operators
Dennis Maitland II (USA)
Ken Weston, Roland Fowles (UK)
Dubbing Mixer
Gerry Humphreys
Sound Editors
Les Wiggins, Archie Ludski
Assistant Sound Editors
Terry Busby, Nigel Galt
Post-Production Co-Ordinator
Roberta Friedman (USA)
Associate Editor
Nena Danevic (USA)
Assistant Editors
Leslie Gaulin, Patrick Mullins (USA)
Peter Honess, Chris Kelly, Patrick Moore (UK)
Location Managers
Richard Brick (USA)
Terry Needham (UK)
Production Co-Ordinator
Golda Offenheim
Production Office Co-Ordinator
Adeline Leonard Seakwood (USA)
Production Secretary
Marilyse Morgan (UK)
Location Co-Ordinators (USA)
David Ticotin, Lee Mayes, Shawn Hausman, Regge Life, Carol Cuddy, Christopher Goode
Assistant to Mr. Cagney
Marge Zimmerman
Assistant to Mr. Forman
Amy Ness
Consultant to Mr. Forman
Miroslav Hajek
Special Photographer
Mary Ellen Mark
Supervising Accountant
Len Barnard
Production Accountant
Mary Breen-Farrelly
Assistant Accountant (NY)
Martha Schumacher
Assistant Choreographer
Terry Gilbert
Researcher
Charles Musser
Music Coach to Mr. Rollins
Stanley Cowell
Casting Associate
Patricia Golden (USA)
Unit Publicist
Gordon Arnell
Publicity Assistant
June Broom
Still Cameramen
Bob Penn, Muky Munkacsi
Process Photography
Charles D. Staffell
Construction Managers
Vic Simpson (UK)
Carlos Quiles Sr. (USA)
Property Master
Bert Hearn (UK)
Property Buyer
John Lanzer (UK)
Scenic Artists
Edward Garzero (USA)
Ted Michell (UK)
Head Construction Grip
Joe Williams Sr. (UK)
Camera Grip
Tony Gridlin (UK)
Stunt Co-Ordinator
Vic Magnotta (USA)
Trasport Captains
James J. Fanning (USA)
Gerald Makein (UK)
Music Recorded at
Amigo and Evergreen Studios Los Angeles, California
Music Editor
John Strauss
Music Consultant
Gilbert Marouani
Orchestrations
Jack Hayes
Song "One More Hour"
Words & Music by Randy Newman
Sung by Jennifer Warnes
Sound Track Available on
Elektra / Asylum, Records and Types
Main & End Titles Produced and Designed by
R. Greenberg Associates, New York City
Recorded at Twickenham Film Studios London
Filmed in Todd-Ao®
Color by Technicolor®
Jerome
Bruce Boa
Brigit
Hoolihan Burke
Gent No. 1 - Agent
Norman Chancer
Grandfather
Edwin Cooper
P.C. O'Donnell
Jeff Daniels
Mameh
Fran Drescher
Gang Member No. 1
Frankie Faison
Police Captaing No. 1
Hal Galili
Judge
Alan Gifford
Delmas Assistant No. 1
Richard Griffiths
Gang Member No. 2
Samuel L. Jackson
Special Reporter
Michael Jeter
Gang Member No. 3
Calvin Levels
Old Lady (T.O.C.)
Bessie Love
Police Captaing No. 2
Christopher Malcolm
Vernon Elliott
Herman Meckler
Delmas Assistant No. 2
Billy J. Mitchell
Little Girl
Jenny Nichols
Little Boy
Max Nichols
Gent No. 2 - Manager
Zack Norman
Mrs. Thaw
Eloise O'Brien
Inspector Mc Neil
Don Plumley
Black Lawyer
Ted Ross
Gang Member No. 4
Dorsey Wright
Foreman of the Jury
Robert Arden
Teddy Roosevelt
Robert Boyd
Vice President Fairbanks
Thomas A. Carlin
Plainclothes Detective No. 1
John Clarkson
Fireman No. 1
Brian E. Dean
County Clerk
Harry Ditson
Gent with Stanford White
Robert Dorning
Police Guard (T.O.C.)
Geoffrey Greenhill
Policeman No. 12
Ray Hassett
Plainclothes Detective No. 2
Robert Hitt
Sleek Male Dancer
Rodney James
Band Leader, Clef Club
George Harris
Novelty Shop Storeman
George J. Manos
Clef Club Manager
Val Pringle
Doctor Muller
Ron Weyand
Evelyn's Driver
Sonny Abagnale
Waldo's Aide No. 1
John Alderson
Policeman No. 5
Nesbitt Blaisdell
Rabbi
Chaim Blatter
J. P. Morgan
Donald Bisset
Stunt Fireman
Joe Cirillo
Fireman No. 3
Josh Clark
Desk Clerk
Robert Coffin
Waldo's Aide No. 3
Patrick Connor
Policeman No. 11
Joel Cutrara
Fireman No. 2
Jake Dengel
Stage Manager
Barry Dennen
Woman No. 1
Natalia Dobrer
Stunt Fireman
Frank Ferrara
Stock Reporter
Daniel Foley
Elderly Woman
Gretchen Franklin
Stunt Fireman
Nick Giangiulio
Thug No. 2
Pat Gorman
Black Butler No. 2
Guy Gregory
Thug No. 1
Dave Griffiths
Policeman No. 13
Jeff Harding
Elderly Man
Robert Henderson
Lawyer's Female Companion No. 1
Collette Hiller
Policeman No 7
Patrick M. Hughes
Lawyer's Female Companion No. 2
Elaine Ives-Cameron
Policeman No. 3
Andreas Katsulas
Police Sergeant
Douglas Lambert
Solomon Peretz
Pavel Landovsky
Lady with Stanford White
Norris Mailer
Waldo's Aide No. 2
Derek Martin
Maitre D'
Al Matthews
Marksman
Stuart Milligan
Stock Reporter
Richard Oldfield
Woman in Window
Nelly Polissky
Thug No. 4
Mike Potter
Policeman No. 9
Anthony Powell
Guard at Family House
Ethan Phillips
Policeman No. 8
Joe Praml
Fireman
John Ratzenberger
Gent No. 3 - Lawyer
Bill Reimbold
Policeman No. 10
Bob Sherman
Stock Reporter
Tony Sibbald
Thug No. 3
Stan Simmons
Libary Guard
John Sterland
Special Reporter
Jan Triska
Reporter
Burnell Tucker
Black Butler No. 3
Britt Walker
Stock Reporter
Peter Whitman
Conductor
Edward Wiley

The Producers would like to thank

The Mayor's Office for Film, Theatre and Broadcasting, New York City
The New York City Police Department, Movie-TV Unit for all their kind co-operation during the making of this film

Made by Tagtime Productions on location in

New York, New Jersey and Connecticut, USA
London locations and at Shepperton Studio Centre, England
© 1981 Sunley Holdings