"Una divertente e sorprendentemente appassionante biografia di Larry Flint che ci invita a vedere l'editore della rivista Hustler come un apprezzabile paladino della libertà ispirato dalla prima appendice della Costituzione statunitense. "
"Larry Flynt è un diavolo con le ali angeliche, una persona di una certa oscenità scontata, ma nello stesso momento di una nobiltà ammirevole" così lo stesso Forman descrive il magnate dell'industria pornografica. La sua biografia cinematografica racconta i venticinque anni della vita dell'uomo che da gestore di un night club diventa l'editore della scandalosa rivista maschile Hustler.
Racconta la storia di un personaggio reale che ha allargato i confini del gusto comune e tramite i propri contrasti con gli avvocati americani difensori della moralità ha dato una svolta all'accesa discussione sulla prima appendice della Costituzione degli Stati Uniti.
Soggetto
"La mia unica colpa sta nel mio cattivo gusto" si difende Larry Flynt di fronte alla Corte Suprema Statunitense, quando affronta la denuncia della pubblicazione  dell'oscena parodia del discorso del sacerdote evangelico Jerry Falwell. Milos Forman descrive Larry come un giullare volgare del Kentucky, che ha messo in piedi un patrimonio grazie a donne nude e sesso, ma allo stesso tempo racconta con una certa empatia la lotta di un individuo testardo contro una società bigotta che non riesce a perdonare al re della pornografia l´arroganza con la quale le mostra la sua ipocrisia.
Sullo sfondo delle dispute relative al suo processo, Forman segue le vicende e le tragedie personali che hanno caratterizzato la vita di Flynt. E' stato vittima di un attentato le cui conseguenze l'hanno legato alla sedia a rotelle; ha perso l'amore della sua vita, Althea a causa di droghe e AIDS. Flynt è rimasto da solo, in preda  a depressione e orrori personali.
La pellicola oscilla tra due generi classici del film americano: la biografia e il dramma basato su un processo penale. Al centro della pellicola Forman ha messo le scene nelle quali il boss della pornografia, affiancato dal brillante avvocato Alan L. Isaacman, lotta contro gli ipocriti moralisti.
E' evidente che la situazione nella quale la Corte Suprema degli Stati Uniti deve decidere se la libertà d'espressione deve essere così ampia da permettere  anche la visione di natiche femminili nude oppure le foto di un rapporto sessuale travestiti  da  Santa Claus, è per Forman un punto fondamentale. "Non dovete essere d'accordo con ciò che lui ha fatto nella vita, ma rinuncereste a causa sua alla libertà d'espressione illimitata?" chiede al suo pubblico.
Curiosita´
La prima volta Forman si rifiutò di leggere la sceneggiatura, convinto che si trattasse di un film porno. Solo dopo che il suo agente gli rivelò che dietro quel progetto c'era Oliver Stone, il regista tornò a vedere la sceneggiatura.
La produzione voleva originariamente concedere il ruolo di Larry Flynt a Tom Hanks oppure Bill Murray. Secondo Milos Forman, Murray non rispose mai a nessuna delle sue chiamate, né ai messaggi che lasciò.
Quando chiesero al vero Larry Flynt, una sua opinione su chi avrebbe preferito che avesse recitato la sua parte, scelse Michael Douglas.
Milos Forman sostiene che Courtney Love arrivò al loro primo incontro sotto l'influenza di droghe. Stava per rifiutarla immediatamente quando capì che proprio lei sarebbe stata perfetta per il ruolo di Althea. Gli propose la parte solamente sotto condizione che durante tutte le riprese non avrebbe toccato nessuna droga e che quotidianamente si sarebbe sottoposta a controlli per rilevare la presenza di droghe nel sangue. Courtney Love afferma ancora adesso che è stato proprio Forman a tirarla fuori dalla dipendenza dalle droghe e che le ha reso possibile rinnovare la carriera.
L'importo dell'assicurazione che la Columbia Pictures avrebbe dovuto pagare per Courtney Love, era così alto che lo studio si rifiutò di pagarlo. Così l'attore Woody Harrelson, i produttori  Oliver Stone e Michael Hausman, il regista Milos Forman e la stessa Courtney Love, divisero le spese pagando l'intera somma di tasca loro.
Courtney Love interpreta nella pellicola la spogliarellista Althea Flynt e lei   stessa, prima di diventare famosa, si guadagnava da vivere facendo la spogliarellista.
Al ruolo di Althea Flynt aspiravano anche le attrici Patricia Arquette, Mira Sorvino, Ashley Judd e molte altre.
Il fratello di Larry Flynt, Jimmy è interpretato nella pellicola dal vero fratello del protagonista Woody Harreleson, Brett Harreleson.
Lo stesso Larry Flynt compare nel film nel ruolo del giudice Morrissey della Corte di Cincinnati.
Il discorso finale dell'avvocato di Larry, interpretato dall'attore Edward Norton, è stato copiato esattamente dal discorso finale del vero avvocato di Larry Flynt, Alan L. Isaacman.
La residenza di Hollywood, dove sono state fatte le riprese , è la vera villa di Larry Flynt, dove ha vissuto all'inizio degli anni ottanta.
Nel ruolo del Dr. Bob compare il vero medico di Flynt, il Dr. Blaine Nashold.
Woody Harrelson utilizza nel film la sedia a rotelle dorata che apparteneva a Larry Flynt.
Edward Norton era già al top della sua carriera, però ha accettato comunque la parte minore dell'avvocato di Larry, perché desiderava collaborare proprio con Milos Forman.
Il ruolo della sorella del presidente Jimmy Carter è stato accettato da Donna Hanover Giuliani, in quel periodo la moglie del famoso sindaco newyorchese, Rudolph Giuliani.
La residenza che rappresenta nel film la sede di Flynt nell'Ohio, è stata temporaneamente utilizzata da Tom Cruise e famiglia nel periodo relativo alle riprese della pellicola Il socio (The Firm), a Memphis. Ancora oggi si conserva in una vetrina il residuo del dentifricio lasciato dal famoso attore.
Dopo la presentazione nei cinema, la pellicola ha dovuto affrontare una campagna femminista capeggiata da Gloria Steinmen, che pubblicò sul New York Times un articolo dove accusava Milos Forman e Oliver Stone dell'umiliazione delle donne. In seguito alla pubblicazione, iniziò un tour per gli USA durante il quale interveniva personalmente contro il film . Questa campagna negativa ha danneggiato notevolmente l'immagine della pellicola e ha portato come conseguenza anche l'annullamento delle opportunità di una vittoria agli Oscar.
Milos Forman sul film
"Non sto dicendo che vi dovrebbe piacere ciò che Larry Flint fa. A me stesso non piace, ma mi piace il fatto che vivo in un paese dove posso deciderlo da solo. In un paese dove posso prendere Hustler e leggermelo con la stessa libertà con la quale lo posso buttare nella spazzatura, dove secondo me dovrebbe stare."
"Flynt  scriveva un sacco di annotazioni sulla sceneggiatura e per me queste avevano un valore enorme. Mi riempiva di osservazioni ed io me le scrivevo nervosamente sui bordi della sceneggiatura sino a quando Flynt ha girato l'ultima pagina e si è ammutolito. Ho raccolto il coraggio per chiedergli: "Larry, ma a lei non dà fastidio che in alcune scene non dà proprio l'impressione di un eroe?" "Ma certo! Chiaro che mi dà fastidio! Ma cosa ci posso fare se tutto questo è la verità?" ha mormorato Flynt."
"Prima della proiezione ero così nervoso che ho riempito tutta la sala di fumo. Larry stava seduto tra le nuvole di fumo del mio sigaro e non ha tolto gli occhi dallo schermo. Ci ho messo un po' a capire che dalle sue guance scendevano le lacrime. Flynt, nel sogno scintillante che gli veniva proiettato di fronte, non ha visto altro che la sua Althea. Il re della pornografia americana era un  gran romanticone, molto più di una poetessa adolescente."
Colonna sonora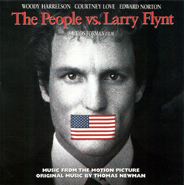 VA - People vs. Larry Flynt
Musica:
Thomas Newman
Eseguito da:
Village Recorder Todd A/O
© 1996 Angel records
© 1996 Columbia Pictures Industries, Inc.
© 1977 Rhino Records, Inc.
© 1975 Warner Bros., Inc. Motion Pictures Artwork And Photography
CD
Eggsplat
Thomas Newman
00:12

Kentucky, 1952
Thomas Newman
02:46

Hello Walls
Faron Young
02:25

Hang On Sloopy
The McCoys
03:54

Tick Tick Tick
Thomas Newman
01:50

Jail Bait
Thomas Newman
01:08

Lewd And Shameful Manner
Thomas Newman
00:54

Cold Turkey Pervert
Thomas Newman
01:13

Battle Hymn Of The Republic
Ruby Wilson e Kurt Clayton
01:08

My Soul Doth Magnify The Lord
The Collins Chapel Youth Choir
01:47

Shooting (Georgia, 1978)
Thomas Newman
02:42

Porn Again
Thomas Newman
01:16

Polonaise
Antonín Dvorak: Rusalka
Eseguito dall´Orchestra Filarmonica Ceca condotta da Libor Pesek
00:58

Triple Dose
Thomas Newman
00:56

Surgery (North Carolina, 1983)
Thomas Newman
00:31

Fanfare And March
Bedrich Smetana: Dalibor
Eseguito dall´Orchestra Filarmonica Ceca condotta da Libor Pesek
02:18

The Half With The Brain
Thomas Newman
01:57

Psycho Ward
Thomas Newman
00:34

Althea
Thomas Newman
01:17

I'm Your Boogie Man
Harry W. Casey & Richard Finch: K.C. & The Sunshine Band
04:04

Twenty-One
Thomas Newman
00:57

Scumbag Like Me
Thomas Newman
01:51

Deep Depravity
Thomas Newman
00:40

Falwell Verdict (Virginia, 1984)
Thomas Newman
00:59

Happy You And Merry Me
Mae Questil
00:41

Los Angeles, 1987
Thomas Newman
01:20

Stabat Mater Dolorosa
Antonín Dvorák
Eseguito dall´Orchestra Filarmonica Ceca condotta da Libor Pesek
Kühnuv detsky sbor condotto da Pavel Kühn
01:10

Rosefall
Thomas Newman
00:40

Stabat Mater Dolorosa
Antonín Dvorák
Eseguito dall´ Orchestra Filarmonica Ceca condotta da Libor Pesek
Kühnuv detsky sbor condotto da Pavel Kühn
07:34

Dream Weaver
Gary Wright
04:19
Location
USA
Memphis, Tennessee

Il paesaggio intorno al fiume (scenografia costruita appositamente per le riprese)

La casa nel Kentucky, dove Flynt è nato. Il padre distilla acquavite e Larry con il fratello trasportano le botti.

Peabody Hotel

L'incontro della Società dei Cittadini per la Letteratura Decorosa , capeggiata da Charles Keating. Nella sala stanno circolando le copie di Hustler, che alcuni signori accettano molto volentieri.

Memphis State University

La sede della Chiesa Battista e del Reverendo Falwell che viene accusato da Hustler di comportamenti sessuali osceni. Si sta preparando una battaglia legale.

The Shelby County Arena

Il centro congressi di Cincinnati. Larry Flynt, dopo esser stato rilasciato dalla prigione, partecipa a un incontro dell'Associazione per la libera stampa.

Il magazzino abbandonato della stazione ferroviaria

La camera da letto di Flynt al secondo piano della casa di Bel Air.
L'edificio originario della casa editrice della rivista di Flynt, Hustler.
Gli interni della Corte presso la quale si svolge il primo procedimento giudiziario di Flynt.

La strada di fronte all'edificio del Tate County Courthouse, Senatobia

• Flynt centrato da un colpo di fucile cade a terra. Per colpa di questa ferita, rimarrà legato alla sedia a rotelle per il resto della sua vita.

Un affluente del Mississippi

Larry Flynt si fa battezzare dall´acqua   del fiume. Il rituale è seguito dalla signora Carter.

Beverly Hills, California

The Flynt Publications Building, 8484 Wilshire Boulevard

La casa editrice di Larry Flynt. Gli uffici di Jimmy e Larry, corridoi, etc. Gli ambienti dell'edificio e il panorama esterno.

La residenza di Flynt a Bel Air

L'intervento della Polizia Federale. Flynt viene arrestato.
Larry Flynt e Althea a casa loro durante gli anni ottanta.
La sequenza finale: Flynt insieme ad Althea guardano un film quando suona il telefono. L'avvocato informa Larry del processo vinto.
La casa fa parte del panorama nella sequenza illustrativa, nella quale Flynt trasloca in California.

Hollywood boulevard

Un transessuale porta fuori il cane. Un'altra parte della sequenza illustrativa, nella quale Flynt trasloca in California.

Washington D. C.

L'edificio della Corte Suprema degli Stati Uniti

Larry arriva per assistere al confronto finale. Si svolgono le interviste con i giornalisti, di fronte al palazzo della Corte si radunano folle di persone.
Evento
Luogo
Premio
Categoria

P

/

N

1996
Oscar® - Academy Awards
(69o Anno)
Los Angeles
USA
Oscar®
Miglior Attore
Woody Harrelson
("Larry Flynt")
Miglior Regista
Milos Forman
Premio dell´Associazione dei Critici Cinematografici di Los Angeles (22o Anno)
Los Angeles
USA
Premio LAFCA (Los Angeles Film Critics Association)
Miglior Attore non protagonista
Edward Norton
("Isaacman")
Miglior Attrice non protagonista
Courtney Love
("Althea Leasure")
Premio del Circolo dei Critici di New York (62esima cerimonia)
New York
USA
Premio NYFCCA (New York Film Critics Circle Award)
Miglior Attrice non protagonista
Courtney Love
("Althea Leasure")
Premio della Societá dei Critici di Boston
Boston
USA
Premio BSFC (Boston Society of Film Critics)
Miglior Attore non protagonista
Edward Norton
("Isaacman")
Miglior Attrice non protagonista
Courtney Love
("Althea Leasure")
Premio della Societá dei Critici Cinematografici del Texas
Texas
USA
Premio STFC (Society of Texas Film Critics)
Miglior Attore non protagonista
Edward Norton
("Isaacman")
National Board of Review
New York
USA
Premio della Libertà d'espressione
Milos Forman, Oliver Stone
Broadcast Film Critics Association Awards
Los Angeles
USA
Premio della Critica
Miglior Film
Premio dell´Associazione dei Critici di Chicago
Chicago
USA
Premio CFCA (Chicago Film Critics Association)
Attore promettente
Edward Norton
("Isaacman")
Attrice promettente
Courtney Love
("Althea Leasure")
Premio del Circolo dei Critici della Florida
Florida
USA
Premio FFCC (Florida Film Critics Circle)
Miglior Attore non protagonista
Edward Norton
("Isaacman")
Miglior Attrice non protagonista
Courtney Love
("Althea Leasure")
Premio dell´Associazione dei critici cinematografici del Sudest
USA
Premio SEFCA (Southeastern Film Critics Association)
Miglior Attore non protagonista
Edward Norton
("Isaacman")
Società per il Film politico
Los Angeles
USA
Premio PFS (Political Film Society)
Exposé
Diritti Umani
Premio della Stampa Internazionale della Academy´s Satellite
Los Angeles
USA
Golden Satellite Award
Miglior Sceneggiatura originale
Scott Alexandre, Larry Karaszewski
Miglior Attrice non protagonista in un film drammatico
Courtney Love
("Althea Leasure")
1997
Premio del Circolo dei Critici Cinematografici di Kansas City
Kansas City
USA
Premio KCFCC (Kansas City Film Critics Circle)
Miglior Film
Golden Globes
(55o Anno)
Los Angeles
USA
Golden Globe
Miglior Regista
Milos Forman
Miglior Sceneggiatura
Scott Alexandre, Larry Karaszewski
Miglior Film drammatico
Michael Hausman
Miglior Attore in un film drammatico
Woody Harrelson ("Larry Flynt")
Miglior Attrice in un film drammatico
Courtney Love
("Althea Leasure")
Festival Internazionale di Berlino
Berlino
Germania
Orso d'oro
Miglior Film - Milos Forman
Premio dell'Associazione degli Sceneggiatori Americani
Los Angeles
USA
Premio di Paul Selvin
Miglior Sceneggiatura non originale di un film drammatico
Scott Alexandre, Larry Karaszewski
Premio dell´Associazione degli attori cinematografici
Los Angeles
USA
Actor®
Miglior Attore
Woody Harrelson
("Larry Flynt")
Societá americana del Casting
Los Angeles
USA
Premio Artios®
Miglior Casting per un film drammatico
Francine Maisler
(location casting: Jo Doster)
MTV Movie Awards
Santa Monica
USA
Premio MTV Movie
Miglior performance rivelazione femminile
Courtney Love
("Althea Leasure")
Leone Ceco
Praga
Repubblica Ceca
Leone Ceco
Film più popolare - Premio del pubblico
Milos Forman
Cast & Credits
Columbia Pictures presents
in Association with Phoenix Pictures an Ixtlan, production

Starring

Larry Flynt
Woody Harrelson
Althea Leasure
Courtney Love
Isaacman
Edward Norton
Charles Keating
James Cromwell
Arlo
Crispin Glover
Simon Leis
James Carville
Jimmy Flynt
Brett Harrelson
Ruth Carter Stapleton
Donna Hanover
Network Reporter
Norm MacDonald
Chester
Vincent Schiavelli
Miles
Miles Chapin
Jerry Falwell
Richard Paul
Judge Thomas Mantke (L. A. Court)
D'Army Bailey
Roy Grutman
Burt Neuborne
The Assassin
Jan Triska
Casting by
Francine Maisler
Music by
Thomas Newman
Costume Designers
Theodor Pistek, Arianne Phillips
Film Editor
Christopher Tellefsen
Production Designer
Patrizia von Brandenstein
Director of Photography
Philippe Rousselot
Written by
Scott Alexander, Larry Karaszewski
Produced by
Oliver Stone, Janet Yang, Michael Hausman
Directed by
Milos Forman
10 Year Old Larry
Cody Block
8 Year Old Jimmy
Ryan Post
Old Hillbilly
Robert Davis
Young Ma Flynt
Kacky Walton
Young Pa Flynt
John Ryan
1st Stripper
Kathleen Kane
Disc Jockey
Greg Roberson
Old Printer
Jim Peck
Trucker
Mike Pniewski
Staffer
Tim Parati
Staffer
Rick Rogers
Staffer
Dan Lenzini
Staffer
David Compton
Staffer
Gary Lowery
Stills Photographer
Stephen Dupree
Tovah
Rainbeau Mars
News Dealer
Tam Drummond
Ma Flynt
Nancy Lea Owen
Pa Flynt
John Fergus Ryan
Governor Rhodes
Oliver Reed
Jacuzzi Girl
Meresa T. Ferguson
Jacuzzi Girl
Andrena Fisher
Police Detective
Ken Kidd
Judge Morrissey (Cincinatti Court)
Larry Flynt
Jury Forewoman (Cincinatti Court)
Janie Paris
Court Clerk (Cincinatti Court)
Carol Russell-Woloshin
Rally Singer
Miss Ruby Wilson
Announcer at Rally
Eddie Davis
Ad Sales Guy
Blaine Pickett
Georgia Cops
Kerry White
Georgia Cops
Joey Hadley
Robert Stapleton
Chris Schadrack
Georgia Prosecutor
Mac Pirkle
Georgia Doctor
Mark W. Johnson
Flynt's Personal Bodyguard
Doug Bauer
Bodyguard
Roberto Roman Ramirez
Dr. Bob
Blaine Nashold
Cute Receptionist
Aurelia Thierree
Blow Dried Jerk
Scott Winters
Lawyer (L. A. Court)
Mike McLaren
Network Lawyer
Andrew Stahl
Delorean Attorney
Michael Detroit
Keating's Secretary
Jaime Jackson
Federal Marshall
David Dwyer
Deputy Marshall
Richard Birdsong
Deputy Marshall
James A. White
Butler
Gerry Robert Byrne
Bailiff (L. A. Court)
Benjamin Greene, Jr.
Mantke Clerk
Mary Neal Naylor
Springfield Prison Guard
Tiny M. Bates
Divinity Student
Evans Donnell
Divinity Student
Jay Adams
Dean Of Liberty College
Bennett Wood
Judge Kirk (Roanoke Court)
Janice Holder
Jury Foreman (Roanoke Court)
A. V. McDowell
Chief Justice Rehnouist
Jim Grimshaw
Justice Marshall
James Smith
Justice Scalia
Rand Hopkins
Justice Stevens
Charles M. Crump
Supreme Court Marhall
Pierre Secher
Svelte Reporter
Linn Sitler
Reporter
Mary M. Norman
Reporter
Jack Shea
Reporter
Lisa Lax
Georgia Reporter
Susan Howe
Georgia Reporter
Michael Davis
Georgia Reporter
Dennis Turner
Georgia Reporter
Patti Hatchett
Georgia Reporter
Ann Marie Hall
Georgia Reporter
Nate Bynum
Georgia Reporter
Paula Haddock
Georgia Reporter
Gary Kraen
Network Reporter
Norm MacDonald
L. A. Reporter
Jeff Johnston
Falwell Reporter
Joey Sulipeck
Falwell Reporter
Jim Palmer
D. C. Reporter
Gene Lyons
D. C. Reporter
Saida Pagan
D. C. Reporter
Jim Hild
D. C. Reporter
Michael Klastorin
TV Reporter At Supreme Court
Michelle Robinson
Associate Producers
Scott Ferguson
George Linardos
Unit Production Manager
Michael Hausman
1st Assistant Director
David McGiffert
2nd Assistant Director
Scott Harris
Production Supervisor
Gerry Robert Byrne
Art Directors
James Nezda, Shawn Hausman
Set Decorators
Maria A. Nay, Amy Wells
Assistant Art Directors
James Flood Truesdale, James Feng
Script Supervisor
Anne Gyory
A Camera Operator
Anastas N. Michos
B Camera Operator
Ted Morris
First Assistants Camera
Robin Melhuish, Brian Nordheim
Costume Supervisor
Nancy McArdle
Costumers
Lawrence Velasco, Stephanie Colin
Key Makeup
Ben Nye, Bron Roylance
Hairstylist
Melissa A. Yonkey
Chief Lighting Technician
Jack English
Best Boy
James Babineaux
Rigging Gaffer
Robert D. Carrier
Key Grip
J. Wayne Parker
Dolly Grip
Chris Rawlins, Jr.
Key Rigging Grips
Riko Schatke, Henry M. Massey
Stunt Coordinator
Tim Trella
Special Effects
Rodman Kiser
Production Coordinator
Chrissie Davis
Assistant Production Coordinators
Kimberly N. Fajen, Margo Hunt, Jennifer Silverman, Jennifer Jenkins
Production Accountant
Matilde P. Valera
Assistant to Mr. Harrelson
Danielle Tahos
Assistant to Mrs. Love
Raphael T. S. Murray
Assistant to Mr. Forman
Martina Zborilova
Assistant to Mr. Stone
Annie Mei-Ling Tien
Assistant to Ms. Yang
Janet Monagham
Location Manager
Betsy Bottando
Assistant Location Manager
Diana Strauss
Property Master
Bill Dambra
Assistant Property Master
David Chamerski
Buyer
Sarah Young
Construction Coordinator
Tyler Osman
Construction Shop Manager
Henning Molfenter
Construction Foreman
Troy Osman
Scenic Artist
John Snow
Camera Scenic Artist
Lee Ross
Lead Person
Leonard Spears
Key Set Dresser
David Weathers
On Set Dresser
Spencer Register
Transportation Captain
Jerry Jackson
Transportation Co-Captain
Rick Davis
Sound Mixer
Chris Newman
Boom Operator
Marc-Jon Sullivan
Cable Person
Gregg Harris
Additional Editor
Michael R. Berenbaum
First Assistant Editor
Joel Hirsch
Second Assistant Editor
Misako Shimizu
Apprentice Editors
Earl Dittebrandt, Arthur Schlenger
Supervising Sound Editor
Stan Bochner
Music Editor
Bill Bernstein
Sound Fx Editors
P. DeMetruis, Richard Quentin King
Dialogue Editors
Stuart Emanuel, Kevin Lee, Branca Mrkic
ADR Editor
Hal Levinsohn
Foley Editor
Ira Spiegel
Foley Artist
Brian Vancho
Assistant Sound Editors
Marlena Grzaslewicz, Michael W. Mitchell
Apprentice Sound Editor
Adam Lipsius
Assistant Music Editor
Jordan Corngold
Re-recording Mixer
Michael Barry
Music Recorded at
Village Recorder Todd A/O
Video Assist
Frankie Yario, Jr.
Second Second Assistant Director
Stephen Hagen
Production Assistants
John R. Saunders, Tobia Minckler, Doug Campbell, Darian Corley, John Brudenell, Barry Barclay, Heather Ross, Steven Samanen, Jana Triska, Karyn Usher
Draper
Shari Griffin
Publicist
Michael Klastorin
Stills Photographer
Sidney Baldwin
Casting Associates
Kathryn Eisenstein, Kathleen Driscoll-Mohler
Extras Casting
Willo Hausman, Kate Kennedy
Mid South Casting
Jo Doster, Kim Petrosky
Researchers
Ashley Cook, Barry Gildea
Magazine Photo Advisor
Ladi von Jansky
Mr. Harrelson's Dialect Coach
Nadia Venesse
Security for Mr. Harrelson
Steve Ranger
Catering
Unique Catering
Craft Service
Wende L. Martin
First Aid
Safety Emergency Services
Process Projection By
The Bran Ferren Group
Color Timer
David Pultz
Negative Cutter
J. G. Films
Opticals by
The Effects House
Color by
DuArt
Title Design and Digital Effects by
Balsmeyer & Everett

The Producers Acknowledge The Cooperation of

Consultant
Alan L. Isaacman (Isaacman, Kaufaman & Painter)
Soundtrack on Angel / Emi Records

Music

"Hello Walls"
Written by Willie Nelson
Performed by Faron Young
Courtesy of Capitol Nashville
under license from
Emi-Capitol Music Special Markets
"Country Girl"
Written by Roy Drusky
Performed by Faron Young
Courtesy of Capitol Nashville
under license from
Emi-Capitol Music Special Markets
"A Satidfied Mind"
Written by Red Hayes & Jack Rhodes
Performed by Porter Wagoner
Courtesy of The RCA Records Label
of BMG Entertainment
"Hang on Sloopy"
Written by Bert Russell & Wes Farrell
Performed by The McCoys
Courtesy of Columbia Records
by Arrangement with Sony Music Licensing
"Express Yourself"
Written by Charles Wright
Performed by Idris Muhammad
Courtesy of Fantasy
"Pick Up The Pieces"
Written by Roger Ball, Malcom Duncan, Alan Gorrie, Robbie McIntosh, Owen McIntyre & Hamish Stuart
Performed by Average White Band
Courtesy of Atlantic Recording eorp.
by Arrangement with
Warner Special Products & Average White Band
"I'm Your Boogie Man"
Written by Harry W. Casey & Richard Finch
Performed by KC & The Sunshine Band
Courtesy of Rhino records
by Arrangement with
Warner Special Products
"Dream Weaver"
Written and Performed by Gary Wright
Courtesy of Warner Bros. Records
by Arrangement with
Warner Special Products
"Tannhauser Overture"
Performed by New York Philharmonic
Conducted by Pierre Boulez
Courtesy of Sony Classical
by Arrangement with
Sony Music Licensing
"My Soul Doth Magnify The Lord"
Written by O'Landa Draper
Performed by The Collins Chapel Choir, Memphis, TN
Choir Director, Jon Reddick
Chopin "No. 47 in A Minor, Opus 68, No. 2"
Performed by Idil Biret
Courtesy of Naxos of America
by Arrangement with
Sourace/Q
"Fantasia on A.D.G."
Written by Jef Rottiers
Courtesy of Rene Gailly International
Productions Belgium
"Use Me"
Written by Jacquelyn Reddick & Jeanie McQuinn
Performed by The Collins Chapel Choir, Memphis, TN
Choir Director, Jon Reddick
"Happy You and Merry Me"
Written by Tot Seymour & Yee Lawnhurst
"Polonaise" form "Rusalka"
Written by Antonin Dvorak
Performed by The Czech Philharmonic Orchestra
Conducted by Libor Pesek
"Blessed Be The Name"
Arranged by Larry Mayfield
Courtesy of Zombia Music Services
"Fanfare and March" from "Dalibor"
Written by Bedrich Smetana
Performed by The Czech Philharmonic Orchestra
Conducted by Libor Pesek
Selections from "Stabat Mater"
Written by Antonin Dvorak
Performed by The Czech Philharmonic Orchestra
Conducted by Libor Pesek
and Kühn's Mixed Chorus
Chorus Master, Pavel Kühn

Special Thanks

The Supreme Court of The United States
Dr. W. W. Herenton, Mayor of Memphis
Jim Rout, Mayor of Shelby County
The Memphis & Shelby Co. Film, Tape and Music Commission
Tennessee Film, Entertainment & Music Commission
Shel Bachrach
Filmed in Panavision®
Prints by Technicolor®
Dolby®
SDDS - Sony Dynamic Digital Sound
© 1996 Columbia Pictures Industries
a Sony Pictures Entertainment company