"Un testimonio valiente, enormemente divertido e inesperadamente cautivador sobre la vida de Flynt, que muestra al editor de la revista Hustler como a un defensor inestimable de la libertad que surge del primer anexo de la constitución estadounidense."
"Larry Flynt es un diablo con alas angelicales, obsceno a buen precio, pero, al mismo tiempo, lleno de distinción digna de admiración", declara el mismo Forman sobre la vida del famoso magnate de la industria pornográfica. Su película biográfica describe 25 años de la vida de un hombre que llegó a ascender desde el puesto de administrador de un club nocturno al de editor de la escandalosa revista para hombres Hustler.
Narra la historia de una persona real que trastocó los límites del buen gusto general y que, por medio de sus pleitos con los defensores de la moralidad estadounidenses, provocó un furioso debate sobre el primer artículo de la Constitución de los Estados Unidos.
Sobre la película
"De lo único que tengo la culpa es de mi mal gusto", alega Larry Flynt frente al tribunal supremo estadounidense donde se enfrenta a la acusación de haber publicado una parodia lasciva del discurso del clérigo evangélico Jerry Falwell. Milos Forman describe a Larry como un bromista vulgar de Kentucky que ha hecho fortuna gracias a las mujeres desnudas y al sexo. Al mismo tiempo, y con una clara simpatía, retrata la lucha de un individuo testarudo contra la sociedad puritana que no puede perdonar al rey de la pornografía su descaro, ya que les echa en cara su propia hipocresía.
A través de los procesos judiciales, Forman sigue la historia de la vida de Flynt y la de su tragedia personal que le afectarán gravemente. Fue víctima de un atentado cuyas consecuencias le amarraron a la silla de ruedas, y el amor de su vida, Althea, sucumbió a las drogas y, con posterioridad, a la enfermedad del SIDA. Flynt se quedó solo, perseguido por sus propias depresiones y horrores.
La película oscila entre dos géneros clásicos del cine estadounidense: la película biográfica y el drama judicial. El punto central de la historia son las escenas donde el pornógrafo Larry Flynt y su excelente abogado, Alan L. Isaacman, luchan contra los autodenominados moralistas.
El hecho de que el Tribunal Supremo de los Estados Unidos tenga que decidir si la libertad de expresión debe ser ilimitada hasta tal punto que permita incluso los traseros femeninos desnudos o la representación del coito disfrazados de Santa Claus es para Forman evidentemente crucial. "No tienen que estar de acuerdo con lo que consiguió, ¿pero renunciarían por él a la libertad de expresión ilimitada?", pregunta la película a sus espectadores.
Curiosidades
Forman en un primer momento se negó a leer el guión de la película porque creía que se trataría de pornografía. Después de que su agente le revelase que detrás del proyecto estaba Oliver Stone, decidió echarle un vistazo.
Originalmente, los productores tenían pensado darle el papel de Larry Flynt o a Tom Hanks o a Bill Murray. No obstante, Milos Forman asegura que Murray nunca le cogió el teléfono ni le contestó los mensajes.
Cuando le preguntaron al Larry Flynt real quién debería interpretarle, escogió a Michael Douglas.
Milos Forman afirma que Courtney Love llegó a su primer encuentro bajo la influencia de las drogas. A punto de rechazarla, se dio cuenta de que era perfecta para el papel de Althea. Le ofreció el papel bajo la condición de que no tomara ningún tipo de drogas durante todo el tiempo de rodaje y que se sometiera cada día a las pruebas que detectan su presencia en la sangre. Courtney Love asegura que fue justamente Forman quien la salvó de su adicción a las drogas, lo cual le permitió retomar su carrera profesional.
El seguro que tenía que pagar Columbia Pictures por Courtney Love era tan alto que el estudio se negó a abonarlo. Por eso, fueron el actor Woody Harrelson, los productores Oliver Stone y Michael Hausman, el director Milos Forman y la misma Courtney quienes pagaron el seguro de sus bolsillos.
Courtney Love hace el papel de una bailarina de striptease, Althea Flynt. La misma Courtney, antes de convertirse en una famosa cantante, vivía trabajando de bailarina de striptease.
Al papel de Althea Flynt aspiraban también otras actrices como Patricia Arquette, Mira Sorvino, Ashley Juddy y muchas más.
El papel de hermano de Larry Flynt lo interpreta Brett Harrelson, el hermano real del protagonista ,Woody Harrelson.
El mismo Larry actúa en la película haciendo el papel de juez Morrisey en el juzgado de Cincinatty.
El discurso final del abogado de Larry, intrepretado por Edward Norton, es una adaptación casi literal del discurso final del abogado real de Larry Flynt, Alan L. Isaacman.
La residencia de Hollywood donde se rodó la película es la mansión real de Larry Flynt, allí vivió a principios de los años ochenta.
En el papel de Dr. Bob actúa Blaine Nashold M. D., el médico real de Flynt.
En la película, Woody Harrelson utiliza una silla de ruedas dorada que pertenece realmente a Larry Flynt.
Edward Norton ya estaba en la cima de su carrera profesional, pero aún así aceptó un papel secundario, el de abogado de Larry, porque deseaba colaborar con Forman.
El papel de la hermana del presidente Jimmy Carter lo interpetó Donna Hanover Giuliani, en aquel entonces, esposa del alcalde de Nueva York, Rudy Giuliani.
La residencia que representa la sede de Flynt en Ohio sirvió a Tom Cruise y a su familia como hogar temporal mientras rodaba la película Firma en Memphis. Hasta ahora se conserva en la casa, detrás del vidrio, el resto de la pasta dentrífica que dejó allí este famoso actor.
Después de su estreno en los cines, la película tuvo que enfrentarse a la campaña acosadora de las feministas estadounidenses, encabezada por Gloria Steinmen, que publicó un artículo en el New York Times acusando a Forman y a Stone de humillar a las mujeres. Después se fue de gira por los Estados Unidos, donde se mostraba en contra de la película públicamente. Esta campaña negativa perjudicó considerablemente a la película y como consecuencia le quitó la posibilidad de conseguir un Óscar.
Milos Forman habla sobre la película
"No digo que debe gustarles lo que hace Larry Flynt. A mí tampoco me gusta, pero me gusta el hecho de que viva en un país donde puedo decidirlo por mí mismo. En un país donde puedo coger Hustler y leerlo, al igual que tirarlo a la basura donde, según yo, debe estar".
"Flynt tenía el guión entero lleno de notas que para mí tenían un valor inmenso. Las objeciones me bombardeaban y yo rascaba frenéticamente los bordes del guión hasta que Flynt le daba la vuelta a la última página y se callaba. Me animé y dije: 'Larry, ¿y a usted no le molesta que en algunas de esas escenas no parezca exactamente un héroe?'.'¡Sí, me molesta! Claro que me molesta, pero ¿qué puedo hacer si todo es verdad?´, gruñó Flynt".
"Antes de la proyección, yo estaba tan nervioso que llené completamente de humo ese cine pequeño. Larry estaba sentado como encadenado dentro de los jirones de la niebla de puro y no quitaba los ojos de la pantalla. Tardé un momento en darme cuenta de que le corrían las lágrimas por las mejillas. Flynt, en su sueño trémulo, no veía ante sí a nadie más que a su Althea. El rey de la pornografía estadounidense era más romántico que una poetisa adolescente".
Banda sonora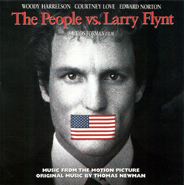 VA - People vs. Larry Flynt
Música:
Thomas Newman.
Grabada en:
Village Recorder Todd A/O.
© 1996 Angel records
© 1996 Columbia Pictures Industries, Inc.
© 1977 Rhino Records, Inc.
© 1975 Warner Bros., Inc. Motion Pictures Artwork And Photography
CD
Eggsplat
Thomas Newman
00:12

Kentucky, 1952
Thomas Newman
02:46

Hello Walls
Faron Young
02:25

Hang On Sloopy
The McCoys
03:54

Tick Tick Tick
Thomas Newman
01:50

Jail Bait
Thomas Newman
01:08

Lewd And Shameful Manner
Thomas Newman
00:54

Cold Turkey Pervert
Thomas Newman
01:13

Battle Hymn Of The Republic
Ruby Wilson y Kurt Clayton
01:08

My Soul Doth Magnify The Lord
The Collins Chapel Youth Choir
01:47

Shooting (Georgia, 1978)
Thomas Newman
02:42

Porn Again
Thomas Newman
01:16

Polonaise
Antonín Dvorak: Rusalka
Orquesta Filarmónica Checa bajo la dirección de Libor Peška
00:58

Triple Dose
Thomas Newman
00:56

Surgery (North Carolina, 1983)
Thomas Newman
00:31

Fanfare And March
Bedrich Smetana: Dalibor
Orquesta Filarmónica Checa bajo la dirección de Libor Peška
02:18

The Half With The Brain
Thomas Newman
01:57

Psycho Ward
Thomas Newman
00:34

Althea
Thomas Newman
01:17

I'm Your Boogie Man
Harry W. Casey & Richard Finch: K.C. & The Sunshine Band
04:04

Twenty-One
Thomas Newman
00:57

Scumbag Like Me
Thomas Newman
01:51

Deep Depravity
Thomas Newman
00:40

Falwell Verdict (Virginia, 1984)
Thomas Newman
00:59

Happy You And Merry Me
Mae Questil
00:41

Los Angeles, 1987
Thomas Newman
01:20

Stabat Mater Dolorosa
Antonín Dvorák
Orquesta Filarmónica Checa bajo la dirección de Libor Peška
Coro Infantil Kühn bajo la dirección de Pavel Kühn
01:10

Rosefall
Thomas Newman
00:40

Stabat Mater Dolorosa
Antonín Dvorák
Orquesta Filarmónica Checa bajo la dirección de Libor Peška
Coro Infantil Kühn bajo la dirección de Pavel Kühn
07:34

Dream Weaver
Gary Wright
04:19
Localizaciones
EE.UU.
Memphis, Tennessee

Alrededores de un río (decorados construidos especialmente para el rodaje)

Casa natal de Flynt en Kentucky. El padre de Larry destila aguardiente y él transporta los barriles con su hermano.

Hotel Peabody

Encuentro de la Sociedad de Ciudadanos "Por una literatura digna", dirigida por Charles Keating. Por la sala circulan publicaciones de Hustler, que se agotadan rápidamente debido al interés que suscitan.

Memphis State University

Sede de la iglesia y del reverendo Falwell. El reverendo es acusado de comportamiento obsceno y se prepara el proceso judicial.

The Shelby County Arena

Centro del congreso en Cincinnati. Larry Flynt participa en un encuentro de la Asociación por la prensa libre tras salir de la prisión.

Almacén abandonado en la estación de tren

Dormitorio de Flynt en la segunda planta de la casa de Bel Air.
Edificio original de la editorial de Flynt, Hustler.
Interior de los juzgados donde tiene lugar la primera sesión del juicio de Flynt.

Calle frente al edificio Tate County Courthouse, Senatobia

Flynt, herido de un tiro, cae al suelo. Como consecuencia a partir de entonces se verá obligado a desplazarse en silla de ruedas.

Un afluente del río Mississippi

Larry Flynt es bautizado en el agua del río, en presencia de la señora Carter.

Beverly Hills, California

The Flynt Publications building, 8484 Wilshire boulevard

La editorial de Larry Flynt. Las oficinas de Jimmy y Larry, los pasillos, etc. Interiores del edificio y panorama general.

Residencia de Flynt en Bel Air

Intervención de la policía federal. Detención de Flynt.
Larry Flynt y Althea en su casa durante los años 80.
En la secuencia final de la película Flynt mira unos vídeos con Althea. Su abogado le comunica por teléfono que ha ganado el juicio.
La casa forma parte de la vista panorámica de la secuencia de presentación en la que Flynt se muda a California.

Hollywood boulevard

Un transexual pasea con su caniche. Forma parte de la secuencia de presentación con la mudanza de Flynt a California.

Ciudad de Washington

Edificio del Tribunal Supremo

Larry llega a la vista final. Entrevistas con periodistas. Delante del edificio del tribunal se concentra la muchedumbre.
Evento
Lugar
Premio
Categoría

P

/

N

1996
Óscar® - Premios de la Academia (Año 69)
Los Ángeles
Estados Unidos
Óscar®
Mejor Actor
Woody Harrelson
("Larry Flynt")
Mejor Director
Milos Forman
Asociación de Críticos de Cine de Los Ángeles (LAFCA)
(Año 22)
Los Ángeles
Estados Unidos
Premio LAFCA (Asociación de Críticos de Cine de Los Ángeles)
Mejor actor de reparto
Edward Norton
("Isaacman")
Mejor actriz de reparto
Courtney Love
("Althea Leasure")
Premios de la Sociedad de Críticos de cine de Nueva York
(Año 62)
Nueva York
Estados Unidos
Premio NYFCC (New York Film Critics Circle Awards)
Mejor actriz de reparto
Courtney Love
("Althea Leasure")
Premios de la Sociedad de Boston de Críticos de Cine
Boston
Estados Unidos
Premio BSFC (Boston Society of Film Critics Award)
Mejor actor de reparto
Edward Norton
("Isaacman")
Mejor actriz de reparto
Courtney Love
("Althea Leasure")
Premios de la Sociedad de Críticos de Cine de Texas
Texas
Estados Unidos
Premio STFC (Society of Texas Film Critics Awards)
Mejor actor de reparto
Edward Norton
("Isaacman")
Consejo Nacional de Crítica de Cine
Nueva York
Estados Unidos
Premio de la Libertad de Expresión
Milos Forman, Oliver Stone
Broadcast Film Critics Association Awards
Los Ángeles
Estados Unidos
Premio Critics Choice (El premio de la crítica)
Mejor película
Premios de la Asociación de Críticos de Cine de Chicago
Chicago
Estados Unidos
Premio CFCA (Chicago Film Critics Association)
Actor más prometedor
Edward Norton
("Isaacman")
Actriz más prometedora
Courtney Love
("Althea Leasure")
Florida Film Critics Circle Awards
Florida
Estados Unidos
Premio FFCC (Sociedad de Críticos de cine de Florida)
Mejor actor de reparto
Edward Norton
("Isaacman")
Mejor actriz de reparto
Courtney Love
("Althea Leasure")
Southeastern Film Critics Association Awards
Estados Unidos
Premio SEFCA (Asociación de Críticos de cine del Sureste)
Mejor actor de reparto
Edward Norton
("Isaacman")
Sociedad de Cine Político
Los Ángeles
Estados Unidos
Premio PFS (Sociedad de Cine Político)
Exposé
Derechos humanos
Premios Satellite de la Academia Internacional de Prensa
Los Ángeles
Estados Unidos
Premio Satellite de Oro
Mejor Guión original
Scott Alexandre, Larry Karaszewski
Mejor actriz de reparto (Drama)
Courtney Love
("Althea Leasure")
1997
Premio de la Asociación de Críticos de cine de Kansas
Kansas City
Estados Unidos
KCFCC (Premio de la Asociación de Críticos de cine de Kansas)
Mejor película
Globo de Oro
(Año 55)
Los Ángeles
Estados Unidos
Globo de Oro
Mejor director
Milos Forman
Mejor Guión
Scott Alexandre, Larry Karaszewski
Mejor película (Drama)
Michael Hausman
Mejor actor (Drama)
Woody Harrelson ("Larry Flynt")
Mejor actriz (Drama)
Courtney Love
("Althea Leasure")
Festival Internacional de Cine de Berlín
Berlín
Alemania
Oso de Oro
Mejor película - Milos Forman
Premios WGA (Gremio de Escritores de América)
Los Ángeles
Estados Unidos
Premio de Paul Selvin
Mejor guión adaptado (drama)
Scott Alexandre, Larry Karaszewski
Premios de Sindicato de Actores (SAG)
Los Ángeles
Estados Unidos
Actor®
Mejor Actor en papel protagónico
Woody Harrelson
("Larry Flynt")
Sociedad Americana de Casting
Los Ángeles
Estados Unidos
Artios®
Mejor Casting para una película de drama
Francine Maisler
(casting de locación: Jo Doster)
Premios MTV de Cine
Santa Mónica
Estados Unidos
Premio MTV
Actuación Excepcional
Courtney Love
("Althea Leasure")
El León Checo
Praga
República Checa
León Checo
Película más exitosa entre la audiencia
Milos Forman
Créditos finales
Columbia Pictures presents
in Association with Phoenix Pictures an Ixtlan, production

Starring

Larry Flynt
Woody Harrelson
Althea Leasure
Courtney Love
Isaacman
Edward Norton
Charles Keating
James Cromwell
Arlo
Crispin Glover
Simon Leis
James Carville
Jimmy Flynt
Brett Harrelson
Ruth Carter Stapleton
Donna Hanover
Network Reporter
Norm MacDonald
Chester
Vincent Schiavelli
Miles
Miles Chapin
Jerry Falwell
Richard Paul
Judge Thomas Mantke (L. A. Court)
D'Army Bailey
Roy Grutman
Burt Neuborne
The Assassin
Jan Triska
Casting by
Francine Maisler
Music by
Thomas Newman
Costume Designers
Theodor Pistek, Arianne Phillips
Film Editor
Christopher Tellefsen
Production Designer
Patrizia von Brandenstein
Director of Photography
Philippe Rousselot
Written by
Scott Alexander, Larry Karaszewski
Produced by
Oliver Stone, Janet Yang, Michael Hausman
Directed by
Milos Forman
10 Year Old Larry
Cody Block
8 Year Old Jimmy
Ryan Post
Old Hillbilly
Robert Davis
Young Ma Flynt
Kacky Walton
Young Pa Flynt
John Ryan
1st Stripper
Kathleen Kane
Disc Jockey
Greg Roberson
Old Printer
Jim Peck
Trucker
Mike Pniewski
Staffer
Tim Parati
Staffer
Rick Rogers
Staffer
Dan Lenzini
Staffer
David Compton
Staffer
Gary Lowery
Stills Photographer
Stephen Dupree
Tovah
Rainbeau Mars
News Dealer
Tam Drummond
Ma Flynt
Nancy Lea Owen
Pa Flynt
John Fergus Ryan
Governor Rhodes
Oliver Reed
Jacuzzi Girl
Meresa T. Ferguson
Jacuzzi Girl
Andrena Fisher
Police Detective
Ken Kidd
Judge Morrissey (Cincinatti Court)
Larry Flynt
Jury Forewoman (Cincinatti Court)
Janie Paris
Court Clerk (Cincinatti Court)
Carol Russell-Woloshin
Rally Singer
Miss Ruby Wilson
Announcer at Rally
Eddie Davis
Ad Sales Guy
Blaine Pickett
Georgia Cops
Kerry White
Georgia Cops
Joey Hadley
Robert Stapleton
Chris Schadrack
Georgia Prosecutor
Mac Pirkle
Georgia Doctor
Mark W. Johnson
Flynt's Personal Bodyguard
Doug Bauer
Bodyguard
Roberto Roman Ramirez
Dr. Bob
Blaine Nashold
Cute Receptionist
Aurelia Thierree
Blow Dried Jerk
Scott Winters
Lawyer (L. A. Court)
Mike McLaren
Network Lawyer
Andrew Stahl
Delorean Attorney
Michael Detroit
Keating's Secretary
Jaime Jackson
Federal Marshall
David Dwyer
Deputy Marshall
Richard Birdsong
Deputy Marshall
James A. White
Butler
Gerry Robert Byrne
Bailiff (L. A. Court)
Benjamin Greene, Jr.
Mantke Clerk
Mary Neal Naylor
Springfield Prison Guard
Tiny M. Bates
Divinity Student
Evans Donnell
Divinity Student
Jay Adams
Dean Of Liberty College
Bennett Wood
Judge Kirk (Roanoke Court)
Janice Holder
Jury Foreman (Roanoke Court)
A. V. McDowell
Chief Justice Rehnouist
Jim Grimshaw
Justice Marshall
James Smith
Justice Scalia
Rand Hopkins
Justice Stevens
Charles M. Crump
Supreme Court Marhall
Pierre Secher
Svelte Reporter
Linn Sitler
Reporter
Mary M. Norman
Reporter
Jack Shea
Reporter
Lisa Lax
Georgia Reporter
Susan Howe
Georgia Reporter
Michael Davis
Georgia Reporter
Dennis Turner
Georgia Reporter
Patti Hatchett
Georgia Reporter
Ann Marie Hall
Georgia Reporter
Nate Bynum
Georgia Reporter
Paula Haddock
Georgia Reporter
Gary Kraen
Network Reporter
Norm MacDonald
L. A. Reporter
Jeff Johnston
Falwell Reporter
Joey Sulipeck
Falwell Reporter
Jim Palmer
D. C. Reporter
Gene Lyons
D. C. Reporter
Saida Pagan
D. C. Reporter
Jim Hild
D. C. Reporter
Michael Klastorin
TV Reporter At Supreme Court
Michelle Robinson
Associate Producers
Scott Ferguson
George Linardos
Unit Production Manager
Michael Hausman
1st Assistant Director
David McGiffert
2nd Assistant Director
Scott Harris
Production Supervisor
Gerry Robert Byrne
Art Directors
James Nezda, Shawn Hausman
Set Decorators
Maria A. Nay, Amy Wells
Assistant Art Directors
James Flood Truesdale, James Feng
Script Supervisor
Anne Gyory
A Camera Operator
Anastas N. Michos
B Camera Operator
Ted Morris
First Assistants Camera
Robin Melhuish, Brian Nordheim
Costume Supervisor
Nancy McArdle
Costumers
Lawrence Velasco, Stephanie Colin
Key Makeup
Ben Nye, Bron Roylance
Hairstylist
Melissa A. Yonkey
Chief Lighting Technician
Jack English
Best Boy
James Babineaux
Rigging Gaffer
Robert D. Carrier
Key Grip
J. Wayne Parker
Dolly Grip
Chris Rawlins, Jr.
Key Rigging Grips
Riko Schatke, Henry M. Massey
Stunt Coordinator
Tim Trella
Special Effects
Rodman Kiser
Production Coordinator
Chrissie Davis
Assistant Production Coordinators
Kimberly N. Fajen, Margo Hunt, Jennifer Silverman, Jennifer Jenkins
Production Accountant
Matilde P. Valera
Assistant to Mr. Harrelson
Danielle Tahos
Assistant to Mrs. Love
Raphael T. S. Murray
Assistant to Mr. Forman
Martina Zborilova
Assistant to Mr. Stone
Annie Mei-Ling Tien
Assistant to Ms. Yang
Janet Monagham
Location Manager
Betsy Bottando
Assistant Location Manager
Diana Strauss
Property Master
Bill Dambra
Assistant Property Master
David Chamerski
Buyer
Sarah Young
Construction Coordinator
Tyler Osman
Construction Shop Manager
Henning Molfenter
Construction Foreman
Troy Osman
Scenic Artist
John Snow
Camera Scenic Artist
Lee Ross
Lead Person
Leonard Spears
Key Set Dresser
David Weathers
On Set Dresser
Spencer Register
Transportation Captain
Jerry Jackson
Transportation Co-Captain
Rick Davis
Sound Mixer
Chris Newman
Boom Operator
Marc-Jon Sullivan
Cable Person
Gregg Harris
Additional Editor
Michael R. Berenbaum
First Assistant Editor
Joel Hirsch
Second Assistant Editor
Misako Shimizu
Apprentice Editors
Earl Dittebrandt, Arthur Schlenger
Supervising Sound Editor
Stan Bochner
Music Editor
Bill Bernstein
Sound Fx Editors
P. DeMetruis, Richard Quentin King
Dialogue Editors
Stuart Emanuel, Kevin Lee, Branca Mrkic
ADR Editor
Hal Levinsohn
Foley Editor
Ira Spiegel
Foley Artist
Brian Vancho
Assistant Sound Editors
Marlena Grzaslewicz, Michael W. Mitchell
Apprentice Sound Editor
Adam Lipsius
Assistant Music Editor
Jordan Corngold
Re-recording Mixer
Michael Barry
Music Recorded at
Village Recorder Todd A/O
Video Assist
Frankie Yario, Jr.
Second Second Assistant Director
Stephen Hagen
Production Assistants
John R. Saunders, Tobia Minckler, Doug Campbell, Darian Corley, John Brudenell, Barry Barclay, Heather Ross, Steven Samanen, Jana Triska, Karyn Usher
Draper
Shari Griffin
Publicist
Michael Klastorin
Stills Photographer
Sidney Baldwin
Casting Associates
Kathryn Eisenstein, Kathleen Driscoll-Mohler
Extras Casting
Willo Hausman, Kate Kennedy
Mid South Casting
Jo Doster, Kim Petrosky
Researchers
Ashley Cook, Barry Gildea
Magazine Photo Advisor
Ladi von Jansky
Mr. Harrelson's Dialect Coach
Nadia Venesse
Security for Mr. Harrelson
Steve Ranger
Catering
Unique Catering
Craft Service
Wende L. Martin
First Aid
Safety Emergency Services
Process Projection By
The Bran Ferren Group
Color Timer
David Pultz
Negative Cutter
J. G. Films
Opticals by
The Effects House
Color by
DuArt
Title Design and Digital Effects by
Balsmeyer & Everett

The Producers Acknowledge The Cooperation of

Consultant
Alan L. Isaacman (Isaacman, Kaufaman & Painter)
Soundtrack on Angel / Emi Records

Music

"Hello Walls"
Written by Willie Nelson
Performed by Faron Young
Courtesy of Capitol Nashville
under license from
Emi-Capitol Music Special Markets
"Country Girl"
Written by Roy Drusky
Performed by Faron Young
Courtesy of Capitol Nashville
under license from
Emi-Capitol Music Special Markets
"A Satidfied Mind"
Written by Red Hayes & Jack Rhodes
Performed by Porter Wagoner
Courtesy of The RCA Records Label
of BMG Entertainment
"Hang on Sloopy"
Written by Bert Russell & Wes Farrell
Performed by The McCoys
Courtesy of Columbia Records
by Arrangement with Sony Music Licensing
"Express Yourself"
Written by Charles Wright
Performed by Idris Muhammad
Courtesy of Fantasy
"Pick Up The Pieces"
Written by Roger Ball, Malcom Duncan, Alan Gorrie, Robbie McIntosh, Owen McIntyre & Hamish Stuart
Performed by Average White Band
Courtesy of Atlantic Recording eorp.
by Arrangement with
Warner Special Products & Average White Band
"I'm Your Boogie Man"
Written by Harry W. Casey & Richard Finch
Performed by KC & The Sunshine Band
Courtesy of Rhino records
by Arrangement with
Warner Special Products
"Dream Weaver"
Written and Performed by Gary Wright
Courtesy of Warner Bros. Records
by Arrangement with
Warner Special Products
"Tannhauser Overture"
Performed by New York Philharmonic
Conducted by Pierre Boulez
Courtesy of Sony Classical
by Arrangement with
Sony Music Licensing
"My Soul Doth Magnify The Lord"
Written by O'Landa Draper
Performed by The Collins Chapel Choir, Memphis, TN
Choir Director, Jon Reddick
Chopin "No. 47 in A Minor, Opus 68, No. 2"
Performed by Idil Biret
Courtesy of Naxos of America
by Arrangement with
Sourace/Q
"Fantasia on A.D.G."
Written by Jef Rottiers
Courtesy of Rene Gailly International
Productions Belgium
"Use Me"
Written by Jacquelyn Reddick & Jeanie McQuinn
Performed by The Collins Chapel Choir, Memphis, TN
Choir Director, Jon Reddick
"Happy You and Merry Me"
Written by Tot Seymour & Yee Lawnhurst
"Polonaise" form "Rusalka"
Written by Antonin Dvorak
Performed by The Czech Philharmonic Orchestra
Conducted by Libor Pesek
"Blessed Be The Name"
Arranged by Larry Mayfield
Courtesy of Zombia Music Services
"Fanfare and March" from "Dalibor"
Written by Bedrich Smetana
Performed by The Czech Philharmonic Orchestra
Conducted by Libor Pesek
Selections from "Stabat Mater"
Written by Antonin Dvorak
Performed by The Czech Philharmonic Orchestra
Conducted by Libor Pesek
and Kühn's Mixed Chorus
Chorus Master, Pavel Kühn

Special Thanks

The Supreme Court of The United States
Dr. W. W. Herenton, Mayor of Memphis
Jim Rout, Mayor of Shelby County
The Memphis & Shelby Co. Film, Tape and Music Commission
Tennessee Film, Entertainment & Music Commission
Shel Bachrach
Filmed in Panavision®
Prints by Technicolor®
Dolby®
SDDS - Sony Dynamic Digital Sound
© 1996 Columbia Pictures Industries
a Sony Pictures Entertainment company